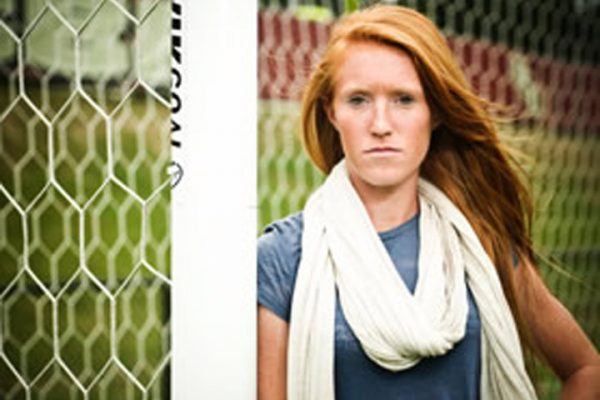 "Soccer is my passion."
Tori Huster came to Florida State University to play soccer. She's proved to be as much of a winner in the classroom as she is on the field.
In the fall of 2009 Tori received the Golden Torch Award, which is given to the athlete from each sport with the highest grade point average. She received the award for work she had done the previous year when had been a freshman. "When I received the Golden Torch I was actually very surprised. I was happy to know that my hard work in the classroom was paying off," said Tori. She has been on the President's List, which requires a perfect 4.0 grade point average, each of the four semesters she's been at the university.
She also distinguished herself as a soccer player during her first year at Florida State. She was one of only two freshmen players to start all 10 ACC regular season games and led all Seminole freshmen in starts and minutes played. She was one of three freshmen to make the All-ACC Freshman Team. She started all four games in the Seminoles' post-season run to the NCAA Quarterfinals and provided the game-winning goal in a 1-0 victory over Boston College.
"Tori is an exceptional student athlete. She is bright and hardworking," said Mark Krikorian, head coach of the women's soccer team. "She has a high level of commitment, a strong work ethic and excellent athletic ability."
She started playing soccer when she was 4 years old. "I played on a little kids' co-ed team at first. I started getting pretty good at it when I gained some coordination, which was around 8 or 9," said the exercise science major. Tori played all through high school, becoming more skilled with every year.
"I decided I would come to Florida State when I was a junior in high school," she said.
Recruited by Florida State because of her athleticism, Tori has been on the university's women's soccer team for two seasons and will be playing again in the fall.
She has played a number of positions on the soccer field. "(Lately) I have been playing midfield and forward." When asked how she trains, she said, "Practicing with the team is probably the most important thing. (But) there are a lot of skills I need to possess to play on the team. When I make myself better by constantly progressing my skills, I make my team better, too."
Tori was in Germany last month, playing on the Under-23 Women's National Soccer Team. In addition to playing on the Florida State women's soccer team and the Under-23 team, "I have also been named to the ESPN's CoSIDA All-District second team," she said.
Tori is majoring in exercise science because "it is one of the majors at Florida State that will give me all the prerequisites I will need to I go into a physician's assistant program."
But if Tori's dreams come true, it will be a while before she starts working in a doctor's office. "Soccer is my passion. … I intend to be a professional athlete. I plan to play soccer for as long as possible. I hope I will be playing in the new women's professional league here in the United States."
"Want to know what my craziest goal is? I want be in a Nike or Gatorade commercial."
And what's to stop her?
---
By Zilpha Underwood