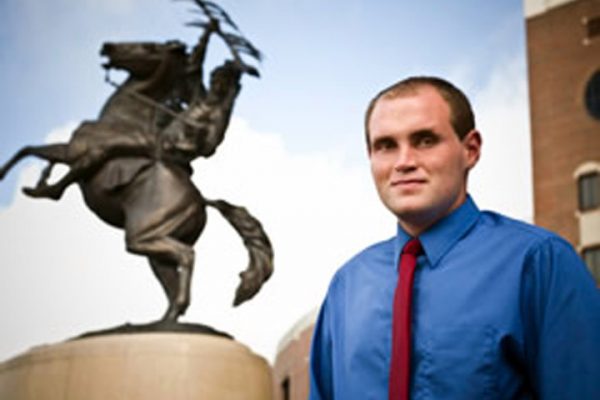 "Getting an education is not simply about getting a degree but letting the spirit and tradition of your university enrich your life."
A chat with a stranger led Nicholas Fox to an internship in Gov. Charlie Crist's office.
"I struck up a conversation with a guy on an elevator and asked him where he worked. When he said he worked at the Capitol, I asked if there might be internships available there. He said he thought so, gave me his card and said I should call him," said Nick. "I did, and ended up with a job in the Governor's Appointments office, providing support to staff who make decisions on filling leadership positions within the state."
That internship was an appropriate one for Nick, who graduated in May with a Bachelor of Arts in Finance and will begin law school here in the fall.
When he came to Florida State in the spring of 2007, the native of Buffalo, N.Y., knew no one at the university. "Coming from a small high school, I intended to simply blend into the crowd. … (But) Florida State brought out the leader in me and inspired me to pursue a career in law," said Nick.
Linda Mahler, associate dean of undergraduate studies, knows him through the Council of Honor Societies and as his pre-law advisor. "Nicholas has enjoyed campus life more fully than most students," she said.
You know that what Dr. Mahler says is true when you listen to Nick talk about his time at Florida State. He says he discovered "that getting an education is not simply about getting a degree but letting the spirit and tradition of your university enrich your life. The experiences I have had while studying (here) have been absolutely tremendous."
One of those experiences was being selected for a Golden Opportunity Mentorship offered through the College of Business Student Leadership Council. His mentor was Bennie Shaw, general counsel for Mainline Information Systems, 39th by revenue on Florida Trend's Top 200 Private Companies in the state. "He was great. He took me around town and introduced me to so many people and showed me many different facets of law," Nick said.
Excelling in academics, Nick was on the Dean's List every semester while at Florida State. He is a member of the Florida State chapter of the Financial Management Association, the Student Alumni Association and Phi Alpha Delta pre-law fraternity. He was selected for many honor societies — Omicron Delta Kappa, Golden Key, Phi Eta Sigma and Mortar Board — and he was vice president of Mortar Board in 2009.
He's also strong on Seminole spirit. Two years ago at the "Blackout" home game versus Boston College, Nick and two friends decided to show their spirit to fans in the stadium and — if they were lucky — to the national audience.
"All three of us painted our bodies black and painted a white letter on our chests —F, S and U. That night it was in the low 30s and extremely windy in Doak Campbell," said Nick. "We were able to get front-row seats and got our section to cheer very loud. We managed to get on ESPN and ABC. … I wanted to show how much I love Florida State."
In March, Nick demonstrated his devotion to his alma mater by raising money for childhood cancer research. Working with Mortar Board and the St. Baldrick's Foundation, he organized a St. Baldrick's Day fund-raiser at Florida State, which he hopes will become an annual event. (St. Baldrick's, a national cancer-fighting group, has raised more than $50 million since 2000.) Nick persuaded 24 men (himself included) and one woman to shave their heads in solidarity with children with cancer. The "shavies" asked for donations to support the effort. "I also had to line up barbers. It was a big job to put this together, but it was worth it. The day of the event was amazing. We raised over $5,000," said Nick.
"I hope this will be a lasting event. I always wanted to start something at Florida State that would leave a lasting legacy."
---
By Zilpha Underwood