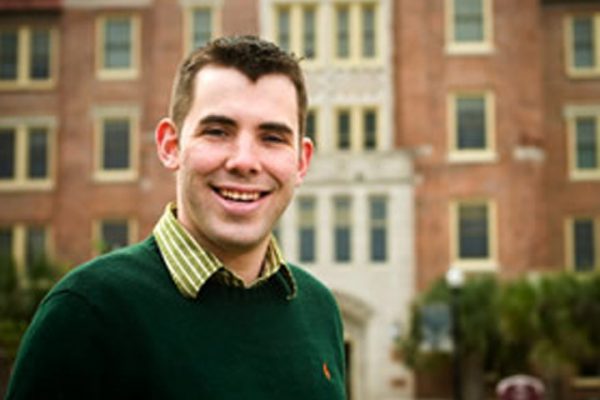 "My job will always be to leave the world better than I found it."
You wouldn't think a student working on two degrees would have time to resolve global crises in his spare time, but Richard Benson does. In fact, he's even traveled to The Hague to do so.
As an active member of Florida State's World Affairs Program, Richard has participated in competitions called "crisis simulations" that pit teams of university students against one another to resolve a complicated global problem.
The World Affairs Program is a student-run academic program within the College of Social Sciences & Public Policy. Its mission is to promote awareness of the global community.
WAP teams are given a political, environmental or economic crisis to deal with. "It involves quickly analyzing the problem, coming up with a plan of action and persuading your teammates to go with your plan for resolving the problem. … Florida State has been successful against schools like Harvard, the University of Chicago, Georgetown," said Richard. "I won competitions from UC Berkeley to Georgetown and represented FSU in the World Championships in The Hague, Netherlands," he said.
Richard has just graduated cum laude with a B.S. in Applied Economics with a minor in Business and a B.A. in History with a minor in Biology. He earned an Honors Medallion, given to him in a special ceremony during his final semester. To receive this distinction a student must have earned 18 hours of Honors credit.
As an Honors student, Richard had the option of working in a research lab instead of taking the regular undergrad Chemistry II teaching lab even though he was not majoring in science.
As a sophomore, Richard was elected a Student Government Association senator. During his time in SGA he was deputy treasurer and acting treasurer. "Richard held several important leadership roles … as a senator and as the chair of the Student Senate Finance Committee. He sponsored much of the legislation passed … and was an active debater," said SGA advisor Dr. Joyce Howard.
When Richard became involved in student government he noticed what seemed to him "a lack of transparency and efficiency. … I ensured the online posting of all SGA expenditures and legislation for students to see and question," he said. Advocating for his fellow students and attention to fiscal matters were hallmarks of his SGA experience. In 2009, he was named Brandewie Foundation Student Senator of the Year.
Although there were obstacles that couldn't be resolved before Richard graduated, he "had a hand in … driving an effort to (convert) all the waste vegetable oil on campus … into bio-diesel for use in Facilities' vehicles," he said.
"Richard is a dedicated and hard-working student who advocates for conservative values and ideals. He is currently working as a telephone fundraiser for the Florida State University Foundation. He is very knowledgeable about university needs. (He) will work tirelessly for what he believes is right," said Dr. Howard.
As student fundraiser for the Foundation, "I have raised more than $80,000 in one and a half semesters (by) calling alumni and friends of the university part time as an effort to do my part to fight budget cuts," said Richard.
In addition to the serious contributions he made to the university, Richard has also had time for some fun. As a member of the fraternity Theta Chi, he worked for Habitat for Humanity.
So what's next for Richard? He has applied for a Fulbright scholarship. "If I get that opportunity, I will spend a year in Turkey, teaching English and researching alternative energy projects in the developing world. Either way, I see a future as an attorney. … My job will always be to leave the world better than I found it. How I do that is not important to me."