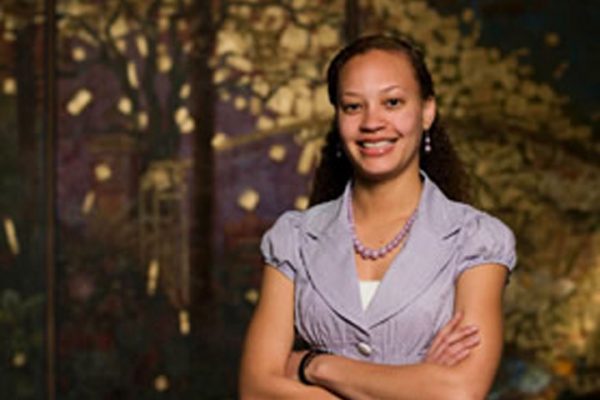 "My love affair with philosophy began when I took ethical theory."
When Briana Toole came to The Florida State University she fully intended to become a lawyer. It was her longtime dream. When she learned that studying philosophy provided a strong foundation for a prospective law student, she thought, "Why not?"
"I had never studied philosophy. It would be new. And, maybe I would be able finally to win an argument with a friend who was always using philosophical reasoning to prove his point," said Briana, who has just graduated with a Bachelor of Arts with Honors in Philosophy and a Bachelor of Arts in Political Science.
"My love affair with philosophy began when I took ethical theory," she said. The more philosophy courses she took the more enamored she became. Eventually, law school lost its appeal.
Briana's enthusiasm for philosophy was not lost on her professors. For her Honors in the Major thesis, "she (chose) a challenging topic … whether morality is founded on reason or sentiment," said Dr. David McNaughton, from whom she took philosophy of religion.
"She regularly took more than the normal number of hours. Last semester, she took 18 — an almost unheard-of number. I believe she had enough hours to graduate, but she was keen to increase her knowledge," said Dr. McNaughton.
Beyond excelling at her heavy classroom demands Briana, who has a 3.8 grade point average, has worked part time throughout her college career. "I work at the Capitol in the office of Rep. Alan Williams. Before that I worked for Rep. Curtis Richardson."
She has also found time for service work. During both her freshman and sophomore years, Briana served on the Student Senate as chair of the Student Affairs Committee. She worked with the director of parking and transportation to increase the number of campus buses and number of bus routes. She also created the SGA survey website, "Got Issues?"
"Briana completely transformed the Student Affairs Committee into one of the strongest in SGA," said Joyce Howard, director of Student Affairs and Briana's SGA advisor. "Her knowledge of SGA statutes and university regulations was impressive."
Briana joined Theta Nu Xi Multicultural Sorority in 2008, serving as the group's university relations and education chairs.
Last summer she traveled to Aranjuez, Spain, with Alternative Break Corps to work for two weeks in a community for people living with HIV/AIDS. "I had never met anyone with AIDS before last spring. I learned a lot. I remember once seeing a girl on campus wearing a T-shirt that said 'I have AIDS.' I think she was wearing it in support of people with AIDS, but I was horrified. I commented to a friend that I'd never do anything like that. Now I understand why she was wearing it."
Currently, Briana is playing a waiting game. She's waiting to find out if she has gotten the Fulbright Teaching Assistantship for which she applied.
"If she receives the award, she will be paid living expenses and a stipend to teach the English language in France for a year," said Craig Filar, director of the Office of National Scholarships.
Briana has been accepted for postgraduate study in philosophy at University of Colorado, Boulder, University of St. Andrews in Scotland and The University of Sheffield in England — the alma mater of Nobel Laureate and Florida State Eppes Professor Sir Harry Kroto.
"I'm not sure what I am going to do. I hope to hear about the Fulbright soon," said she.
So what does she envision doing after grad school? "I would like to teach. I would like to write about philosophy for the general public. That would be the pinnacle. I would like people to know that philosophy is nothing to be afraid of. Philosophy draws you outside of yourself and challenges your way of thinking."