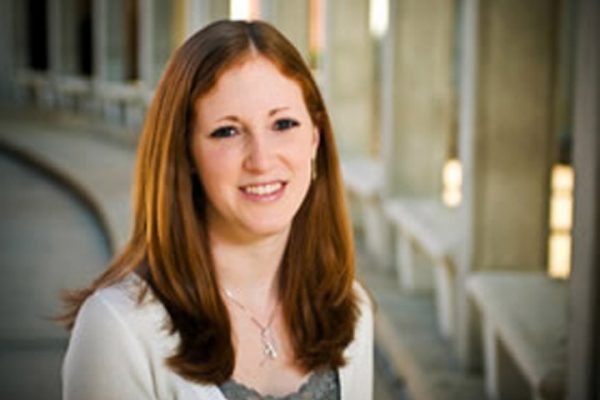 "Sometimes people assume that statistics is just math, but it's actually way more than that. Statistics is conceptual."
Kelly McGinnity graduated from The Florida State University after the summer 2009 semester with a Bachelor of Arts in Music and a Bachelor of Science in Statistics — both summa cum laude. And she did it in three years, during which she also found time to play the flute and piccolo for The Marching Chiefs.
Why majors in both music and statistics? "I couldn't decide between the two, so I decided to do both. I've always had an affinity for math and technical sciences and excelled in all quantitative classes in high school. But I also had a passion for music and really enjoyed playing the flute," she said. "I knew music wasn't the most stable career to choose, but I still was interested in learning more. … I thought of my statistics major as career preparation.
"I was in the advanced-placement program in high school, so I came to Florida State with 46 college credits. I had a head start on college," said Kelly, who, in the fall, will begin the last year of the Department of Statistics' five-year bachelor's-master's program.
Kelly expects to have completed her master's degree in spring 2011. "I'm not eager to leave. I love the environment here."
Although wistful about leaving Florida State for good, she's excited about spending this summer working in Alexandria, Va. "I have a 10-week internship with the Defense Department's Institute for Defense Analysis. … I do not know exactly what I'll be doing, but it will involve trend and data analysis for national security and military related issues."
"I'm a practical person. I think that's why I'm more interested in analysis than research," said Kelly. "I enjoy working with data. Sometimes people assume that statistics is just math, but it's actually way more than that. Statistics is conceptual. I'm good at conceptual thinking."
Kelly's favorite instructor, Dr. Xufeng Niu, a statistics professor, predicts good things ahead for her. "She has very strong leadership abilities. She is energetic, enthusiastic, and dedicated to her work. She will be a leader in her field someday."
With an assistantship in the statistics department, Kelly works in the Statistical Consulting Center, helping students in upper-level statistics classes and graduate students working on theses and dissertations involving statistical analyses.
Kelly is a member of several honor societies, including Phi Beta Kappa, Pi Kappa Lambda and Golden Key. She is currently a member of the Student Advisory Committee for the statistics department.
What would her dream job be? "I plan to pursue a career in applied statistics and statistical programming. I hope to use my skills to help people and solve real-world problems in a job in industry or government."
When you talk to Kelly about her time at Florida State, it's clear that she is headed toward a career for which she is well suited and well prepared. But it's when she begins to remember her time with The Marching Chiefs that eyes begin to sparkle.
"I will always remember the last time I performed with The Marching Chiefs. It was the final Prism concert last fall," she said. "The immense amount of time and dedication I put into that organization made the last performance bittersweet and one of the most memorable moments of my college career.
"There is nothing like supporting your amazing school in the company of some of your closest friends."