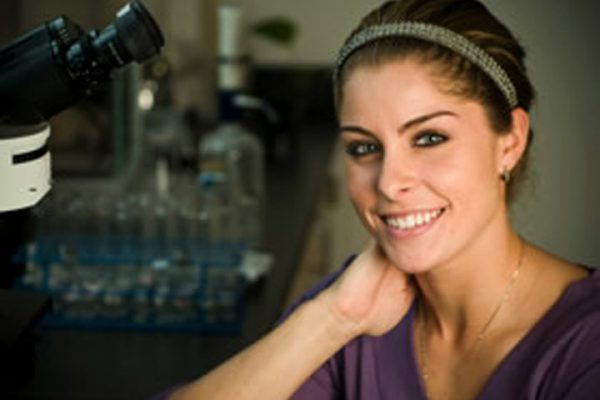 "It was at the Coastal and Marine Lab that I really began to connect my love for children and my love for science and envision the possibilities in that connection."
Florida State University graduate student and track-and-field athlete Erin Elizabeth Simmons is an aspiring marine biologist and committed volunteer with a record of high, fast achievement.
She has also achieved finalist status in this year's rigorous Rhodes Scholarship competition. The distinguished prize is awarded annually to just 32 U.S. college students from across the nation.
Called "exceptionally talented" and "intellectually fearless" by her biology professors and academic advisors, Simmons plans to complete her master's program in biological science by summer 2010 and then hopes to pursue a doctoral degree in zoology.
Her career goals include promoting conservation and management of marine resources and habitat and starting an educational outreach program for international youth that addresses sustainability issues.
Simmons seems destined to multitask and succeed with both efficiency and aplomb.
In the 11th and 12th grades, she enrolled full time at the Texas Academy of Mathematics and Science, a residential program at the University of North Texas for high-school students who are gifted in math and science. She arrived at Florida State in 2006 and, in just two years, earned not only her bachelor's degree in biological science but also a Certificate in Marine Biology, graduating magna cum laude in 2008. Now, at age 21, after concentrating her studies on marine ecology and evolution, she's just months away from earning a master's degree as well.
But her high-speed success at Florida State has been achieved while also competing as a javelin-throwing, triple-jumping, walk-on member of the track and field team; mentoring other young scientists as an instructor in the university's Saturday at the Sea program for middle- and high-school students; and continuing to volunteer for the Equine Angels Special Therapy Center in Texas, which uses horses to treat and rehabilitate severely disabled children. It's a commitment that began at age 15 for Simmons, who donated her own horse to the non-profit organization.
Growing up just north of Dallas, Texas, six hours from the coast, Simmons said it was the mystery of the ocean that drew her into the study of marine systems.
"My attraction to science began in the fourth grade and, later in middle school, I got my first glimpse of marine biology tucked away in an obscure chapter of my biology textbook," she said. "My high school years as a TAMS student laid the foundation for my interest in the application of math to biology. Among the reasons I chose to attend Florida State was its Certificate Program in Marine Biology, which enabled me to specialize in marine science while getting a bachelor's degree in biology. All this comes together in my master's thesis, which is integrating math, biology and computer science to develop an optimal management strategy for grouper in the Gulf of Mexico."
Simmons has been an instructor in the Saturday at the Sea program since 2007, helping to introduce local teens to the marine and coastal ecosystems of Florida's Gulf Coast. The program is part of the Florida State University Coastal and Marine Laboratory — the primary source of her career inspiration.
"It was at the Coastal and Marine Lab that I really began to connect my love for children and my love for science and envision the possibilities in that connection," Simmons said.
Biology faculty member Felicia Coleman is the Coastal and Marine Lab director. She has worked with Simmons since 2006 as a teacher, advisor and mentor.
"As an undergraduate, Erin was part of the highly competitive Certificate Program in Marine Biology, and though it is usually restricted to upper-level undergraduates, she was exceptional in that she started the program a full two years ahead of the normal trajectory," Coleman said. "She used the opportunity to grow as a scholar, and even tackled a particularly complex ecological problem related to fisheries that now serves as the basis for her master's research. She has an analytical mind and, given her math skills, has great potential to do extraordinarily well in this field."
College of Arts and Sciences Dean Joseph Travis is also a biology faculty member and an advisor to Simmons since her undergraduate days.
"Since she progressed through school more rapidly than most, Erin is younger than nearly all of our other graduate students," Travis said. "As a result, her youth and quiet demeanor may lead some to underestimate her. That would be a mistake. It isn't often that one sees so much capability and maturity in someone her age."