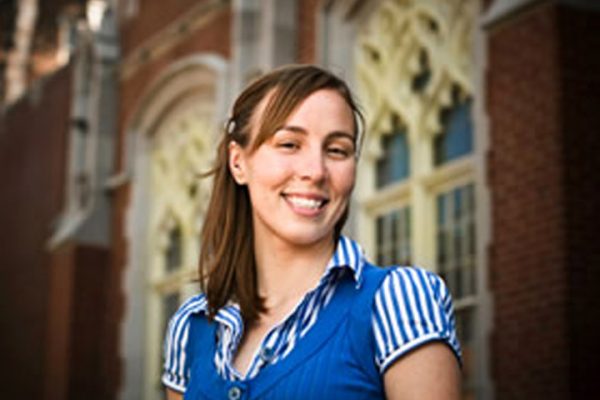 "Learning about ancient cultures through their texts is what I love."
Karen Meyer, who has just graduated from The Florida State University, has some adjusting to do. After immersing herself in the study of Classical Greek and Roman culture for four years she will begin graduate study of medieval history at the University of Tennessee this fall.
"Learning about ancient cultures through their texts is what I love. I'm not an archaeologist. That holds no appeal for me. It's reading the literature that I find exciting. I'm interested in the way cultural shifts can be understood through literature," she said.
Karen came to Florida State intending to study engineering. It wasn't long before she asked herself, "Is this what I want to do with the rest of my life?" That's when she devoted herself to Classics.
She was accepted for a research seminar/undergraduate assistantship designed by the Honors program. "It was an experimental program," she said. "Undergraduate assistantships to do research in the liberal arts aren't common, but I took a course in research techniques when I was a sophomore and became interested in it. I became Dr. Nancy de Grummond's research assistant.
"My project was to find mythological references in popular culture. I was looking for more than Greek and Roman references. I was looking for Norse, Celtic and Indian myths — ancient mythology of the East and the West," said Karen. "It was easy to find things like 'Clash of the Titans,' but I was looking for more obscure references."
Karen dug up some doozies, such as one dreamed up by writers for the TV show "Hercules: The Legendary Journeys." In this mishmash of myths Hercules helps Norse gods prevent Ragnarok, aka the end of the world.
One of Karen's Classics professors, Dr. Tim Stover, has this to say about his student. "She clearly works very hard, but her relaxed demeanor makes it seem like understanding difficult material, such as ancient Greek and Latin literature, comes easily to her."
The title of Karen's Honors thesis is "Disarming Athena: Militarism from the Homeric Epic to Callimachus." "I'm looking at the way Athena (the goddess of war, the arts, industry, justice and skill in Greek mythology) is depicted in literature and how that depiction changed over time and what that change says about the culture in which the work was written."
Don't get the impression that all of Karen's interests are intellectual ones. She's an animal lover who owns a gerbil and a cat she named Schrödinger. "The kitten was half dead when I got her," she said.
Another of her passions is bouldering. "I took a rock-climbing class in the fall of 2008 and loved it. I'm the president of the Climbing Club at Florida State University. We throw our big crash pads (a cushioning pad designed to keep climbers from injury) in the car on weekends and go to boulder fields," said Karen. "I love the climbing. I don't love all the paperwork that goes with it — waivers, documentation, compliance forms. As president of the club I do lots and lots of paperwork."
Karen has been on either the President's List or the Dean's List every semester of her college career. She graduated with Honors, summa cum laude and a 3.9 grade point average. She is a member of the National Society of Collegiate Scholars. She is also a member of Eta Sigma Phi honor society and served as its treasurer.
How do Karen's parents feel about their daughter's career path? "My parents are very supportive. With my interests I will very likely end up teaching, which is fine. My mom's a teacher. My dad's a teacher. Both grandmothers are teachers."
Who knows, perhaps the Fates are responsible for Karen's life in the groves of academe.