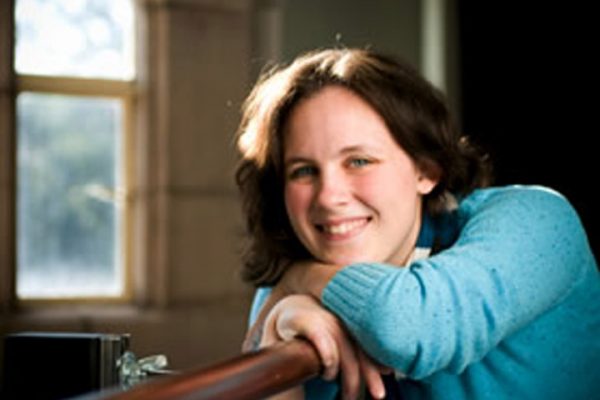 "Choreography is my passion."
Aimee Plauche's Honors thesis defense had a musical accompaniment. That's because this Honors in the Major student from The Florida State University School of Dance created a new work of choreography as her thesis.
"Choreography is my passion," said Aimee. "I wanted to go for Honors in the Major, and I wanted to design a choreography project. I thought there must be a way for my choreography to be accepted as my thesis," she said.
"It was a little tricky figuring out how to satisfy all the criteria for the Honors thesis with a creative project. For instance, I wouldn't have a specific bibliography because I wouldn't be doing research. I would be pulling everything out of my own head."
A plan was worked out that met the approval of the Honors Program and the School of Dance. In August, Aimee went to work creating a new dance she named "Four, Unzipped."
"It's 12 minutes, the longest piece I've ever done. It's two duets — one for men, one for women. I had a friend in mind when I was making this piece. … you could say it is about interpersonal struggle," she said.
"My dancers are wonderful. They are willing to try anything. They have great interactivity," said Aimee, who intends to have her own dance company someday.
When asked if her professors supported her in the project, her answer was emphatic. "Absolutely. Professor Gerri Houlihan, my Honors advisor, was great. She was always there for me when I needed her. They also supported me by leaving me alone. I didn't want an outside influence to affect my creative process."
Referring to Aimee as "bright, motivated and extremely creative," her advisor offers an astute analysis of the young choreographer's artistic motivation. "Aimee has more ideas for dances in her head than she can possibly find time to create," said Professor Houlihan. "There is a sense of urgency about her work that corresponds to her own personal drive and that informs the energy and athleticism of her dances."
Another one of her dance instructors puts this way, "Aimee is an imaginative, talented dancer with a vision that is unique," said Professor Lynda Davis.
As a child Aimee dreamed of becoming a ballerina, and, in fact, took ballet lessons from the age of seven to 18. These days she finds ballet "too limiting."
"Aimee has impressed me since her freshman year as a dancer who feels that movement and choreography need to reach beyond technique and speak to larger issues," said Professor Houlihan.
Outside of the dance studio Aimee has spent time as a participant and a site leader for the Alternative Break Corps public-service program. "I had unforgettable experiences in the Everglades and at the Arkansas Children's Hospital."
Aimee will spend her last semester before graduation immersed in the arts in New York City. Since 2002, School of Dance seniors and graduate students have had an opportunity to spend fall semester in New York City — in a program dubbed FSU in NYC — learning to navigate the city and the dance world. Students can continue their academic studies and take studio classes. Attending performances and visiting museums and art galleries is an important part of the experience. The aim is to prepare students to function in the world of professional dance.
"I'm looking forward to visiting museums and art galleries and seeing the work of other choreographers. I want to see things I have never seen before," she said. "I've always lived in the South, and I love it, but it's time for me to experience something else.
"Choreographing my Honors thesis is the most exciting and terrifying thing I have done at Florida State, and I have loved every moment of it. I have worked with amazing dancers and mentors. I will never forget the people who helped make it happen."