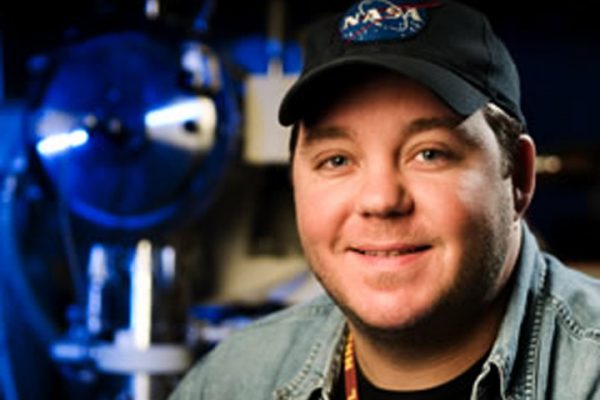 "I would tell any student, 'It is in your best interest to apply for any research opportunity that comes your way. You've just got to do it.'"
Danny Goddard is in tune with the world — both literally and figuratively. He's a musician who will graduate in August with a Bachelor of Science in Geological Sciences.
"Music has always been a big part of my life," said Danny, who plays everything from percussion to pedal-steel guitar. With his band Stillwood, founded about 10 years ago, he toured and established a substantial fan base in Tallahassee and around the country. He wrote and sold songs. And, one of his songs — "Runaround" — was used on the reality TV show "Dog the Bounty Hunter." Danny's current group is a trio, The New 76ers.
Danny, who has a 4.0 grade point average in his major, is every bit as much a man of science as he is a musician. He is winner of two research awards and is vice president of The Florida State University Geological Club.
The university recently announced that geological sciences would become part of the new Earth, Ocean and Atmospheric Sciences Department in the College of Arts and Sciences. Danny has been accepted for the master's program in the new department and won a fully funded teaching assistantship to support his studies.
Danny said he has always been interested in science. "I've always felt that I am in tune with the natural world, that I understood natural processes." But before he put that affinity to work in the classroom and lab, Danny traveled another path.
"I dropped out of high school to write and play music," said Danny. "The band was pretty successful." He started the group that became Stillwood about 10 years ago.
For several years Danny and his wife Kelly, also a musician, worked various jobs and concentrated on their music. "It was great, but at a certain point, you want something more stable," said Danny.
About a year and a half after he enrolled in Tallahassee Community College, Danny was taking classes at Florida State. Impressed with the geological sciences faculty, Danny decided it was the department for him.
"Many people have no idea what a geologist does," said Danny. "The fact is that geologists provide many modern essentials — from oil and gas to fresh water, metals and silicon for computers, raw materials for roads, buildings and plastics. We use the geological sciences to understand the history of our planet and help predict its future. Its applications are nearly endless," he said.
A broad knowledge of the sciences is required to become a geological scientist. "Geology is a solid science. The course work I did for my degree was demanding. I am only one course short of a minor in physics, mathematics and chemistry. It's a rigorous program," said Danny.
In fall 2008, Danny became a lab assistant in geology professor Dr. Yang Wang's laboratory. She was impressed by his curiosity and drive. "Unlike other undergraduate lab assistants that I have had over the years, Danny asked many questions about the work he was doing and about my research," said Dr. Wang. "He then asked me if he could be more involved in research.
"Without prodding from me, Danny applied for and won an FSU Undergraduate Research Creativity Award," to do research over the summer. "It's clear to me that he has a passion for science and the self-motivation to make things happen," she said.
The award from the Office of Undergraduate Research and Creative Endeavors made it possible for Danny to continue the research he had begun with Dr. Wang. The result was a paper, "Prehistoric Herbivores of Northern China."
It may seem that prehistoric herbivores have nothing to teach us about geology, but they do. By analyzing slices of the animal's tooth Danny could tell what types of plants it ate throughout its life. "By understanding the isotopic record preserved in a fossil tooth we can infer a great deal about the environment the animal inhabited," said Danny.
In fall 2009, Danny applied for and won a $4,000 Research Experiences for Undergraduates award from the National Science Foundation. This led him to work with Dr. Vincent Salters, professor of geochemistry at the National High Magnetic Field Laboratory.
"That was an amazing experience. This is the real stuff — working and meeting daily with a top scientist … I would tell any student, 'It is in your best interest to apply for any research opportunity that comes your way. You've just got to do it,'" he said.
Danny was Dr. Sherwood Wise's teaching assistant this spring for his "Dinosaurs and Disasters" class. "Danny was highly effective in his role … he is an older, more mature and experienced student who has been out there in the working world. The students look up to him and come to him with their problems," said Dr. Wise.
This month, Danny caps off his undergraduate career when he travels to Taos, N.M., to participate in Florida State's six-week Geological Field Camp. "We'll be out in the field six days a week applying what we have learned. I'm not looking forward to being away from my wife and little girl for so long, but I have been looking forward to the trip for a long time, and I'm ready to get to work."