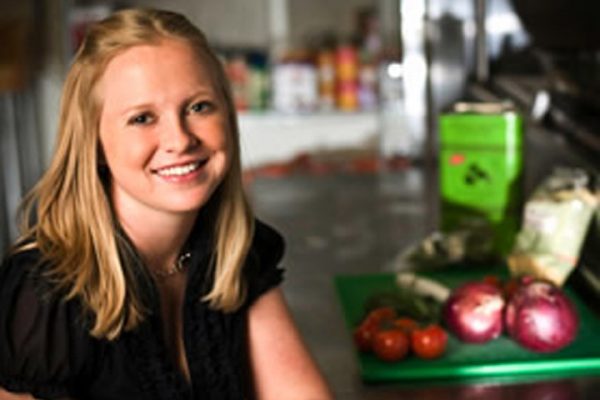 "I discovered I really loved restaurants."
No matter how you slice it, 1000 hours is a lot of time, but that's the number of internship hours a hospitality-management major is expected to put in before graduation.
Holly Spencer, who graduates this spring with a B.S. from The Florida State University's Dedman School of Hospitality, had put in her 1000 hours before she began her junior year.
A stroke of luck the summer after her freshman year gave her a good start on fulfilling the requirement.
"I had gone to every restaurant and hotel in Coral Springs (looking for internship opportunities) and had found nothing. Then my dad suggested I go to the Hyatt Regency, where he'd been to a lot of meetings. So I did. … It turned out that the director of human resources was a graduate of Dedman. (And) a food and beverage internship had just opened up. I got the job."
That summer she worked at the Hyatt Regency Bonaventure Conference Center in Weston. She trained as restaurant hostess, server's assistant and server in the hotel's four-diamond-rated fine-dining restaurant and cocktail lounge.
The following summer she landed a job at a yacht club near her parent's new home in Daytona Beach and was a management intern with Darden Restaurants this past summer. "It was great training," she said. "I discovered I really loved the atmosphere and dynamic found in restaurants."
"She was able to achieve in three short years, what many students require four full years to achieve," said Jane Ohlin, director and Robert H. Dedman professor of Hospitality Management. "All of this very high quality management internship experience made her an exceptional student."
With the internship hours out of the way, Holly turned her attention to other projects.
She "helped rescue two of our foundering student clubs. (She) led a team that increased enrollment for the university's chapter of the Florida Restaurant Association and our honor society," said Pam Monnier, director of industry relations, Dedman School of Hospitality.
Holly was vice-president of the student chapter of the restaurant association last year. This year she is its president. The group's membership has tripled since last spring. Members of the association volunteer to help with charitable events around town such as the Tallahassee Museum's Zoobilee, Children's Home Society's Chef's Sampler and Sunrise Rotary's Brewfest Tallahassee.
Holly also serves as the vice-president of Eta Sigma Delta, the international hospitality honor society. She remains deeply involved this year.
Holly "enthusiastically reinvigorated our chapter. She has been at the forefront of working on fund-raising initiatives at a time when fund raising is the key to survival," said Ohlin.
Jim Koenigsberg, hospitality instructor, said Holly was his first choice to be a lab assistant for his catering-management class. "She was always smiling. … She had a proactive attitude. She would set up schedules for the students, implement monitoring systems for their progress, and take on other jobs that helped me in class," said Koenigsberg.
This year, she has worked as lab assistant for the Ashby Stiff Little Dinner Series, which means managing a staff of about 55 students who plan, prepare and serve six themed dinners each semester.
As a member of the College of Business Student Leadership Council, Holly was director of the Golden Opportunities Mentorship Program, an activity she said "has been rewarding. Last fall only 12 students were paired with a mentor from their intended field. This fall we had 47 students participate and interact with a mentor from their intended field each week."
Holly has been on the Dean's List every semester she's been at Florida State and has won many scholarships, including one from Zonta International, which named her an International Woman in Business Scholar.
"I am impressed with Holly's initiative and drive. She has on her own secured more than two dozen scholarships — I have lost count," said Monnier. "She also helps other students secure scholarships."
She has been accepted for the MBA program in Florida State's College of Business and will begin full-time this summer. In August, Holly will continue her MBA course work online while pursuing her career with Darden Restaurants as a manager-in-training.
She would like to become a general manager of a restaurant, a regional director, and perhaps take a step into the corporate world for a restaurant corporation someday.
"It's easy imagining she will achieve her goals," said Ohlin. "Recruiters recognize her winning personality and her integrity," said Ohlin. "She is an outstanding student and will be a powerful leader in the hospitality industry in the years ahead."