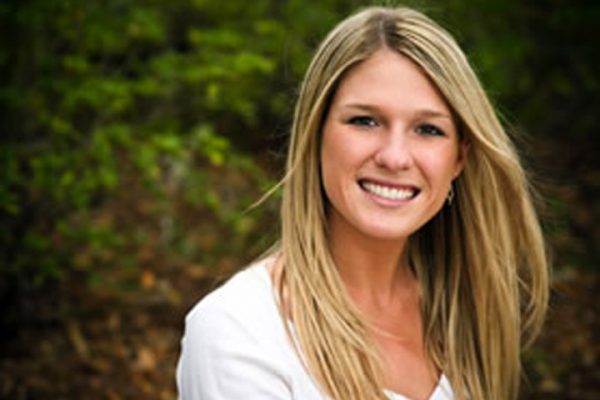 "I declared my major in dietetics right away."
"I knew I wanted to work in a helping profession. I declared my major in dietetics right away," said Megan O'Donnell. "I added a major in family and child sciences my junior year." She will graduate magna cum laude from The Florida State University later this month with a bachelor's degree in both.
As a group exercise instructor at the Leach Center, Megan spends a bit of time in the gym herself. "I love teaching at the Leach. When my friends and sorority sisters take my classes, it's more fun than work," she said.
Megan is a member of the Glenn Society, a leadership honor organization for the top one percent of the student body of the College of Human Sciences. She also was awarded the Eunice Grady Scholarship and the Norejane Hendrickson Leadership Award for students studying the human sciences.
Megan is an active volunteer in her field. She is president of the Student Dietetic Association. Last year Megan and two other students founded Students Promoting Autism Awareness, for which she was named the Undergraduate Humanitarian of the Year for the College of Human Sciences. In 2008, she was a counselor at the Tallahassee Memorial Hospital's Diabetes Camp.
"(It) was an amazing experience. The kids were so knowledgeable. I'm sure I learned more from them than they learned from me. That experience convinced me that I want to work with kids," she said.
Megan has been inspired by her metabolism instructor Jennifer Hemphill, undergraduate dietetics program director in the department of nutrition, food and exercise sciences in the College of Human Sciences. "It is hard to explain the impact she has had on my college career. She is truly an inspiration to all dietetics students."
Professor Hemphill sees a bright future ahead for Megan. "She has great leadership and organizational skills," the professor said.
"In the past couple of years, (Megan's) focus has changed from short-term goals to long-term goals. She knows graduate school is in her future. I think that will help her decide if she wants to become a practitioner or researcher. She has the ability and drive to do either," said Professor Hemphill.