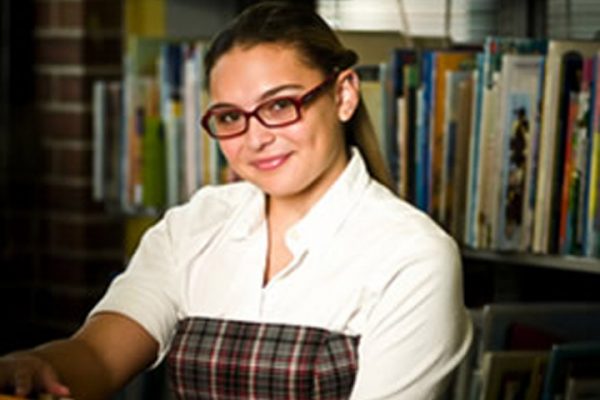 "The Flying High Circus is an amazing program."
"I walk the high wire," said graduate student Daniela Hudson. Even though many students face balancing acts every day with classes, jobs and other activities, for Daniela it's not just wordplay.
The librarian-in-training is a tightrope walker with the Florida State Flying High Circus.
When Daniela transferred to Florida State as a junior she was keenly aware of opportunities awaiting her at the university and eager for new experiences. But how did she find herself traversing a wire high above a circus ring?
"I had a friend who did 'Bike for Five' in the Flying High Circus, and it looked like fun. In Bike for Five a guy rides a bike and four girls stand on his shoulders and do tricks while he rides around one of the circus' three rings," said Daniela.
Florida State's Flying High Circus, established in 1947, is one of two college circus programs in the United States. "(It) is an amazing program. Even if you are only mildly athletic in the beginning, you can get involved," she said. "There is a pretty intense boot camp you have to get through to be granted an OK to work on an act. With good coaching you increase your strength and flexibility. You have to put in the hours — a lot of hours."
Daniela signed up for Introduction to Circus, and by the end of the semester she had been exposed to the basics of juggling, walking the high wire, aerial ballet and rigging. "You get to try everything," said Daniela. "The coaches are so good and have so much experience you learn really quickly. And you sort of find your niche. It turned out that I was good on the high wire," she said.
What did her parents think about her newly discovered talent? "When I told them about it they said, 'Oh, great. We send you to college, and you run off with the circus.'"
But she didn't run away. Instead, Daniela graduated in spring 2009 with a B.A. in English Literature with concentrations in Spanish and accounting. Now she is working on a master's in the School of Library and Information Studies in the College of Communication and Information with minors in Spanish and business.
Daniela came to Florida State in 2007 and, she said, "I felt like a 'Nole right away."
"Interacting with the FSU community is second nature to me," she said. Her devotion to the school runs deep. She looks for opportunities "to cheer on our many talented students in music, athletics or academics. When a 'Nole succeeds, I'm proud."
This year, Daniela spent Spring Break in Tallahassee working on a Habitat for Humanity project, Collegiate Challenge. As a Habitat officer, she hosted about 20 students from another university who came to town to help build a house. "I secured donated meals for them for the week and guided them through Tallahassee."
She began working with Habitat in 2006. "Making an impact on your community is not a one-time action; it is an everyday commitment," said Daniela.
"I am working on a literacy project for the children we put in our Habitat homes by trying to get them a refurbished computer and library information packets as well as some donated books to start a library of their own at home. I am hoping to have at least one trial of the program-to-be this year. We have blessing of the Big Bend Habitat board members already," she said.
Daniela has been on the Dean's List every semester and is a member of the Oscar Arias Sanchez Hispanic Honor Society. OASHHS is open to sophomores, juniors, seniors and transfer students of Hispanic heritage with a 3.0 or above grade-point average who have fulfilled certain service requirements.
Daniela has been treasurer of Florida State's American Library Association chapter and is now editor of the group's newsletter.
By applying for a graduate assistantship, she got a job at the Charlotte Edwards Maguire Medical Library at the College of Medicine. She also was awarded tuition reimbursement for up to nine credit hours per semester. Susan Epstein, head of public services, is her supervisor. "We are very lucky that she's our graduate assistant," said Epstein.
"I believe she will be an 'ideal librarian' — someone who can connect people to the information they need. Daniela asks great questions and really wants to understand how information resources work. Her avid interest in all aspects of being a librarian is refreshing."