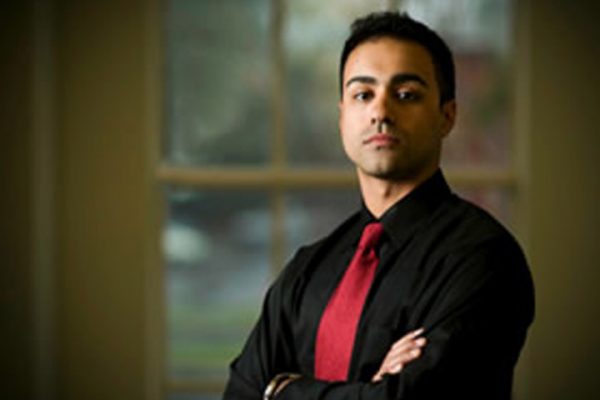 "I've counseled a couple of my fraternity brothers through Pre-Health Advising, and that's been great."
Just a couple of weeks after graduating from The Florida State University with a B.S. in Nutrition & Food Science, Jose Barquin will be back in class.
On June 1, he begins his studies at the university's College of Medicine — a step he didn't foresee when he came to Florida State in 2006.
"Coming in, I had no idea what I should major in, but I knew I was interested in science," he said.
Jose, who says he is "100 percent Cuban-American," decided to check out meteorology. "I thought maybe I would be the Spanish-speaking weatherman," he laughed. It wasn't long before he realized he wasn't sufficiently intrigued by the subject and began to consider other areas of science.
Then he took a nutrition class. "I fell in love with it and began to think about medical school," said Jose. Before that, becoming a doctor seemed beyond his grasp. "I think the idea had been (on my mind) all the time. I just didn't see it as possible, but then I thought, I've gotten this far, why not go for it? … When I made my decision to pursue it, I had no doubt it was my goal."
And with that realization, Jose turned his attention to making it happen — and to helping other students achieve their goals as well.
In the fall of his sophomore year, Thesla Anderson, director of College and Pre-College Outreach at the College of Medicine and Jose's premedical advisor and mentor, encouraged him to join the Multi-Cultural Association of Pre-Medical Students (MAPS). He soon became the group's public relations officer. He is currently its president.
"(Jose) has done an exceptional job as a leader in MAPS. (Under) his leadership our membership has gone from about 60 students to more than 300 students from diverse backgrounds," said Anderson.
It was at a MAPS social that Jose met Dr. Jose Rodriguez, local family practice physician and associate professor at the College of Medicine. "He asked if he could shadow me," said Dr. Rodriguez. "As time went on, we began to see patients together. … Jose always asked important and thoughtful questions. … (He) is a quick learner and a go-getter."
Anderson was so impressed with Jose that she hired him as an assistant coordinator of the various programs in the Pre-Health Advising and Outreach Department. "I knew I could use someone of his caliber with his leadership and communication skills."
During his two years as an assistant coordinator in the Pre-Health Advising Department, Jose managed study groups, supervised a tutoring program, began and directed a Pre-Health Student Advising branch, presented to various incoming freshman orientation groups, assisted in supervising a high-school mentoring program, helped launch a pilot program of the now successful Anti-Tobacco Initiative (ATI), and coordinated the Undergraduate SSTRIDE (Science Students Together Reaching Instructional Diversity & Excellence) meetings.
SSTRIDE's mission is to identify students with a serious interest in a career in science, engineering, mathematics, health or medicine and to provide those students with support services to help them succeed. This outreach organization was created to support a College of Medicine initiative addressing the disparity between the need for minority physicians and the pool of minority applicants.
Through the undergraduate SSTRIDE program, Jose spearheaded a project for Spanish-speaking students to become certified as CPR instructors. These certified instructors then "take that knowledge to rural parts of the Panhandle — such as Quincy — to train and certify in CPR as many Spanish-speaking rural people as possible," he said.
Dr. Rodriguez expects Jose to continue reaching out to underserved populations. "(He) is motivated by service. … As most pre-medical students, (he is) not sure what impact health-care reform will have or what the new system will look like. Still, Jose wants to work in that system to serve Latino and poor communities in Florida," he said.
Jose and two other students founded Students Promoting Autism Awareness last year. SPAA works closely with Florida State's Autism Institute. Through a National Institutes of Health scholarship, he attended the annual conference of the National Hispanic Medical Association in New York City.
Also, under the mentorship of Dr. Cathy Levenson, Jose participated in neuroscience research in which he performed brain surgeries on rats and studied the effects various treatments had on recovery from traumatic brain injury.
He is a member of Phi Sigma Kappa. "I love my fraternity," he said. "I've counseled a couple of my fraternity brothers through Pre-Health Advising, and that's been great. … I tell them they can achieve their goals."
Motivating people is clearly important to Jose. MAPS and Pre-Health Advising have given him a chance to "interact with hundreds of aspiring pre-health professionals. I've made it my mission to continue to motivate and drive these students to succeed."