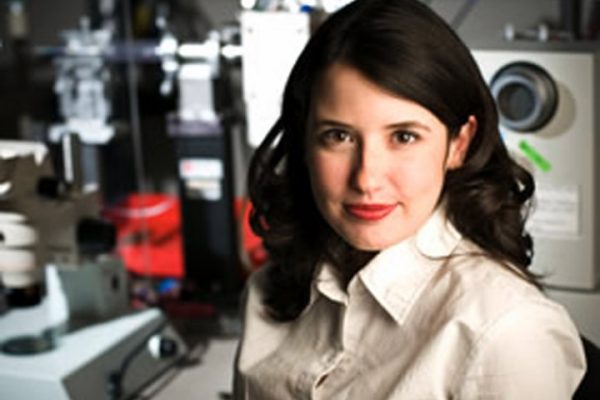 "The United States does the best research in the world. It has the best equipment, the best facilities."
"I had never heard of Tallahassee when I met Dr. Marcia Fenley," said Cristina Russo, who later this month will be awarded her Ph.D. in molecular biophysics from The Florida State University.
A meeting of the Brazilian Biochemistry Society brought Dr. Fenley, associate professor in Florida State's physics department, and Cristina together. Cristina's research was focused on computational methods to design molecules with pharmaceutical potential. Specifically, she was presenting on the computational design of anticoagulants.
"Cristina showed great enthusiasm about the research she was presenting," said Dr. Fenley, who was also presenting her research at the meeting. "I encouraged her to apply for the Molecular Biophysics Ph.D. program at Florida State."
At that time, Cristina was working on her master's in cellular and molecular biology at The Federal University of Rio Grande do Sul, one of her country's top universities. "I was very excited. The United States does the best research in the world. It has the best equipment, the best facilities."
Shortly after the conference, she said, "I got a letter from Dr. Tim Logan (professor of chemistry and biochemistry) that said, 'Consider this encouragement to apply to Florida State.'"
While the idea of moving so far from home gave her pause, she knew this was an opportunity she could not pass up. "I was accepted and given a full scholarship and an assistantship," said Cristina. "I couldn't believe it."
After attaining her master's degree in Brazil, she headed to Tallahassee well aware of Florida State's Institute of Molecular Biophysics and "the excellence of its interdisciplinary program," she said. The move allowed Cristina to proceed down a path she hoped would lead to doing what she longed to do: "make medicines."
Continuing work begun by Dr. Michael Blaber, professor of biomedical sciences at the College of Medicine, and Dr. Hugh Nymeyer, assistant professor of chemistry and biochemistry at the institute, Cristina collaborated with Dr. Fenley to develop a computational program to design pharmaceuticals for the treatment of heart disease.
"Cristina has an interesting background — one that combines enzymology and computational skills," said Dr. Blaber. "Also, she is an extremely nice person with a good sense of humor, but she has a tenacity when faced with difficult situations."
Her mentor and major advisor Dr. Fenley — on whose DNA research Cristina also collaborated — agrees. "Cristina does not give up. She works very hard and is very persistent. … These are important traits for any scientist."
Cristina has inspired those qualities in the students she has worked with. "I have mentored undergraduate students who are now enrolled in graduate programs," she said.
Dr. Fenley regards her as a "very talented teacher. … Cristina cares deeply about training undergraduates. … She is concerned about helping minorities and women advance in science."
Her teaching skills came into play when a friend, Dr. Marsha Fridie, a Florida State graduate who is a specialist in educational broadcasting, encouraged her to become involved with GeoSet (Global Educational Outreach for Science Engineering and Technology), a series of Internet-based video science programs aimed at audiences ranging from elementary school students to graduate researchers. It is the creation of Dr. Harry Kroto, Nobel Laureate and Francis Eppes Professor of Chemistry at Florida State.
"With Marsha, I had the opportunity to develop scripts, produce and direct short science segments," said Cristina.
Away from the university, Cristina dances with Killearn Modern Dancers, and has performed for events such as Children's Day at the Museum of Florida History. She also choreographs. Last month her choreography could be seen at the Springtime Tallahassee performance of Capital City Shakespeare's "Romeo and Juliet."
Cristina is intrigued by the idea of testing drugs computationally. If the structure of molecules can be accurately modeled, scientists should be able to compute the effect of new drugs upon them. "It would eliminate some of the testing of drugs on laboratory animals," said Cristina, "but it is controversial."
Being an animal lover, she said, "I'm ambivalent about animal testing. I'm not extreme in any situation. I understand the need but hope computational testing will diminish it."
In July, Dr. Cristina Russo will leave Florida State to do post-doctoral work at the University of Washington in Seattle. She hopes this leads to work with a pharmaceutical company where she can use her knowledge to develop life-saving drugs. She would like to teach as well, and "to communicate science to a general audience."
Cristina is as enthusiastic about her research now as in 2003. "It's really exciting. It keeps me going through all the exhausting work."