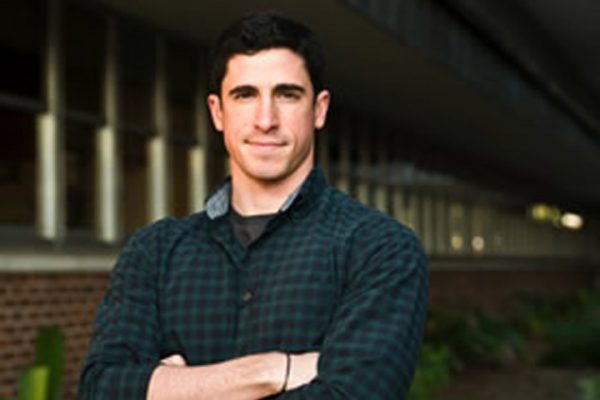 "The award really meant a lot to me because of the time I have given, the affection I have for our staff and the loyalty I feel for the program and the school."
Commitment, perseverance, discipline and a disarming sense of humor are key to Stefan Scheuermann's successful college career. "He is a dynamic individual," said David Peters, director of Intramural Sports and Sport Clubs. Peters has known Stefan, now a graduate student in sports administration, since he was hired in his freshman year as an official for intramural basketball. "From Day One, he always had a positive attitude."
The graduate student, who completed his undergraduate degree in business management at Florida State University in less than four years, will graduate this spring with a master's degree.
Combining a lifelong passion for sports and his management studies, Stefan has worked in the intramural department since 2005, steadily assuming greater responsibilities and honing his management skills. "There are lots of emergencies.…You have to be able to diffuse tense situations." Tempers often flare during games — even if the game is being played only for recreation. "I've had to say, 'Dude, do you really want to punch this guy — for a T-shirt?' That usually makes them stop and think. I like to use humor, if I can."
In 2006, Stefan became a supervisor for the intramural department and is also on its student leadership team. It's the highest position for a student employee in the department. "I am part of the training team responsible for training more than 100 officials (for various sports) we hire each semester."
Being a supervisor entails more than training officials. "We are responsible for making sure the schedules are in order and that games run accordingly each night. Most important of all is making sure student participants are safe and get good care if they are injured," Stefan said. The tasks may sound daunting but with the caliber of coworkers he describes, Stefan happily takes it on nightly. "I am fortunate that my coworkers are also my friends. It makes all the chaos of some of the shifts worth it."
In 2009, Stefan was named Supervisor of the Year for his work in the intramural department. "The award really meant a lot to me because of the time I have given, the affection I have for our staff and the loyalty I feel for the program and the school."
Stefan has also worked for Florida State's athletic department. "I was offered an internship with FSU sports marketing.…I interned in varying capacities during the fall of 2008 and spring of 2009." Currently, Stefan interns with Brenden Lata for the Florida State Track and Field Department. "Brenden and our staff are awesome. I am grateful for his sense of humor and the opportunity he's given me to continue working in and enjoying collegiate athletics."
As a Lifetime Activities Program instructor, Stefan has taught students weight training, aerobic conditioning, and currently teaches rock climbing and kayaking at the FSU Reservation.
Stefan's tenacious spirit served him well when he participated in — and won — the Leach Center's Work-Out Partner Competition. Beginning during the fall 2007 and continuing through spring 2008, Stefan and fellow athletes were put through a grueling series of events that included swimming, bike-riding, weight lifting, running and more. One of many challenges the competition presented was that participants had to be ready for anything.
"We didn't know what we would be doing each time. They told us how to dress and when to meet. That was it. Lynn Grasso made the competition fun, interesting and really difficult."
Intramural Director Peters said, "That really employed all of Stefan's skills. …If he takes on a project, he sees it through to the end."
Stefan is hopeful he will get an internship with a major athletic-equipment firm or a collegiate athletics department when he graduates. Ultimately he would like to manage a creative team in design or advertising, working toward becoming an athletic director at a university. "It is through my tenure with intramural sports that I have found a real love for managing people in a changing environment. (But) it's not where you are or what you are doing, it's the people you do it for that matter."