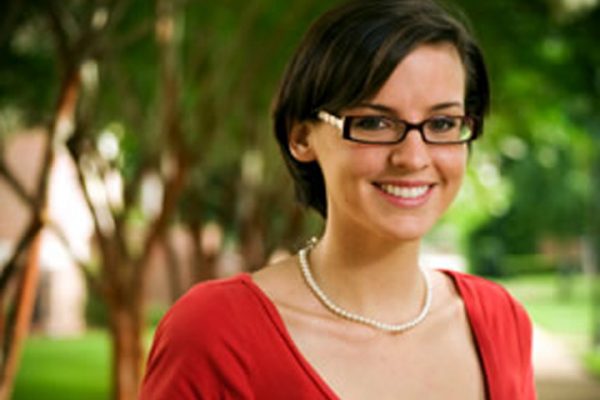 "I could tell that my individual academic contribution would be valued at Florida State, and I would not be recognized only as a Social Security number on a list of students."
Senior Monica Moore, nationally honored as an emerging scholar, shares her academic growth at The Florida State University by volunteering as an Honors Delegate with high-achieving high school students.
"I really like the mission to invite these students to have a more personal experience when they come for a preview of Florida State," said Moore. "We give them our perspectives on why FSU should be at the top of their lists."
Moore, a political science major in the College of Social Sciences & Public Policy with a minor in religion in the College of Arts & Sciences, started her life at Florida State in the Honors Program, where she had what she calls "exceptional opportunities."
"I could tell that my individual academic contribution would be valued at Florida State," she said, "and I would not be recognized only as a Social Security number on a list of students."
Moore, from Panama City, chose to live in honors housing in Landis Hall as a freshman, which provided small classes in the residence hall and allowed her to get to know professors one-on-one. "It was amazing," she said.
As she heads toward graduation in Fall 2009 with a 3.985 GPA, Moore has completed a research thesis to earn Honors in the Major. In addition, the honors organization Phi Kappa Phi selected her as one of 60 undergraduates nationwide to receive an Emerging Scholar award.
When I came to Florida State, I didn't know about research opportunities and I was relieved I wasn't required to do an honors thesis or seek Honors in the Major," Moore said. "But I had to take one research course for my political science major. And my perspective changed."
As her required research course, Moore selected U.S. Environmental Policy with Christopher Reenock, associate professor and director of undergraduate studies in the Department of Political Science.
"He actually talked to me. He said, 'You're really good at this if you're thinking about doing research,'" Moore said.
Reenock became her mentor and advisor on her environmental research project to determine what features of a regulatory environment affect a firm's willingness to comply with standards set by The Clean Air Act.
"He has taken a pro-active role in my education," Moore said. "The amazing thing was he was working with me and another student with her own individual project. He helped both of us every step of the way."
Moore's research using data on more than 43,000 firms turned her hypothesis upside down: Diverse districts, such as those found in a city, have fewer repeat citations than homogeneous areas such as a logging town in South Dakota.
She speculates that officers in the Environmental Protection Agency rely more on cooperative relationships with firms in diverse areas, and the more trusting relationship leads to fewer violations. In contrast, EPA officers in homogeneous districts know the ins and outs of the one or two industries they regulate and are more likely to give citations than to rely on cooperation.
"I was always impressed with Monica's ability to digest simultaneously the relatively high-level theoretical work in this research area and the more tedious hurdles of raw data collection," Reenock said. "To my thinking, Monica's thesis highlights her abilities in both critical thinking and dedication to conducting original research."
Moore said her minor in religion and its impact on culture and history complements her studies and will help when she seeks a Ph.D. in political science. "Religion keeps me grounded in what people are feeling and how political changes affect people's lives," she said.
In her final semester, she took a paid research position with Robert Crew, who is a professor, associate dean and director of the Master's in Applied American Politics and Policy, to assist him with a book on the 2008 elections in Florida. "I did my thesis, and now I'm doing research for someone else. It hasn't gotten boring yet," she said.
In her off-time, Moore and friends play the board game "Settlers of Catan," which also has an online version. In the game, each player tries to be the dominant force on the make-believe island of Catan by building settlements, cities and roads. On each turn, dice are rolled to determine what resources the island produces. Players collect these resources to build up their civilizations to win 10 victory points and the game.
Why? She laughed. "It's fun to have the contact with other people. Frontiersmen have to gather resources to build settlements. We steal each other's resources and cut off each other's roads to win."