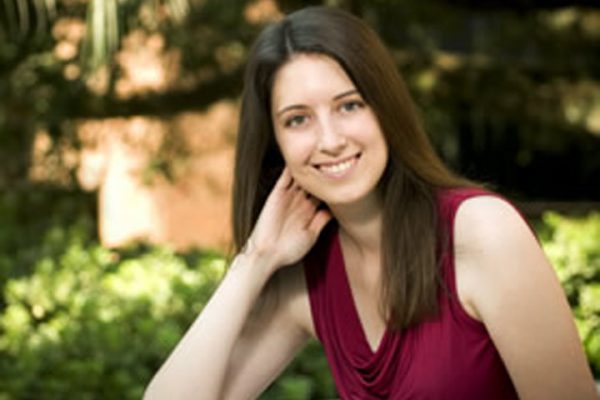 "I didn't have to stand around long with a map in my hand before a friendly student or professor pointed me in the right direction. I felt at home in no time"
When Sarah Diesburg sought out graduate schools, she looked at Web site after Web site. Too many were poorly designed, difficult to navigate and, most importantly, made her question the credibility of the computer science programs.
After all, she's a computer programmer.
But then she looked at The Florida State University.
"It was a beautiful site," said Diesburg, "and on more investigation, I found professors doing research in areas I was interested in pursuing."
As Diesburg studied her way through her master's degree and into her doctoral program in the Department of Computer Science at Florida State, she earned a $15,000 scholar award, won a national fellowship from the Department of Education, became lead lecturer in a computer literacy class with 200 students, worked as a teaching assistant, published a paper in a judged journal with her major professor, and started a campus organization to better support women in computing.
This year, she's completing research for her dissertation on ways to better protect personal information on computers that use flash drive technology such as PDAs, digital cameras and cell phones. Even encrypted information is at risk.
"People assume certain guarantees when they encrypt a file or data. They think other people can't get into it. But I found that isn't true," Diesburg said. "It's easy to take a mathematical theory which is correct and proven and try to put it into a system.
"But the devil is in the details."
Now that she's found a weakness, Diesburg is working on the details. Her goal is to make it easier and more intuitive for people to truly delete information from computerized technology and protect their intellectual and personal data.
"A lot of credit goes to my advisors and professors," she said. "They have a wealth of knowledge in this area. My academic advisor, Dr. Wang, has always given me a lot of encouragement to pursue my own ideas and interests."
An-I Andy Wang, assistant professor in the Department of Computer Science, nominated her for the 2009-2010 P.E.O. $15,000 Scholar Award. The Philanthropic Educational Organization selected 18 students from a field of 700 nominees.
"By putting theories into tests, Sarah has discovered a number of vulnerabilities in modern storage systems," Wang said. "At this point, Sarah is designing and building secure storage solutions for solid-state disks, which will have far-reaching security and privacy implications for everyone in a few years."
Diesburg also has won several student travel grants for such conferences as the Grace Hopper Celebration of Women in Computing and USENIX Security Symposiums. A National Science Foundation grant sent her to the 21st ACM Symposium on Operating Systems Principles.
In addition, Diesburg has worked to recruit and retain female students in a field where the overall percentage of female students has been decreasing.
She founded the Florida State Chapter of ACM-Women by converting an existing group to a chapter of the Association for Computing Machinery, considered the world's largest educational and scientific computing society. She served as president of the chapter last year and now is secretary/webmaster.
"Sarah is extremely rare in our field, where fewer than 2 per cent of researchers are women. In addition, fewer than 5 per cent of computer scientists can undertake the difficult task of advancing the field of operating systems," Wang said.
Diesburg also volunteered for more than two years with the STARS Alliance, which seeks to recruit women and minorities to computing. In one workshop, Diesburg helped introduce middle school students to programming concepts using free software. One group programmed robots while another developed a 3D game using Egyptian pyramids, mummies and glowing orbs.
"I really feel I have been lucky to be at Florida State," said Diesburg, who earned her bachelor's degree at much smaller University of Northern Iowa. "One of my favorite memories happened when I started at Florida State in the summer of 2005. I was a little afraid I would be overwhelmed by the size of the campus. Instead, I didn't have to stand around long with a map in my hand before a friendly student or professor would point me in the right direction. I felt at home in no time."
Of course, she and her husband, also a graduate of the University of Northern Iowa, were happy to escape the winters of her hometown of Washburn, Iowa, not far from Waterloo.