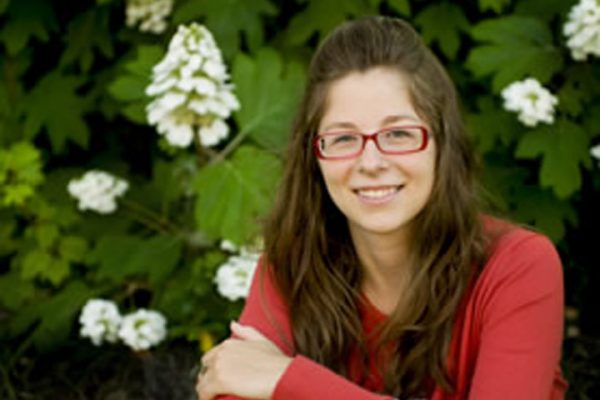 "I've shown that Florida State isn't just a research-based school for faculty — it's actually a university where students can take on worthy research projects independently."
During her study-abroad programs at The Florida State University, Mary Kate Blehl lost her fear of heights when she rode a donkey up a treacherous stone pathway on a Greek island with her leg dangling over the edge of the cliff.
"Somehow I managed to trust the donkey and this elderly man who couldn't speak a word of English," Blehl said, "and I lost my fear."
Blehl, an Orlando native who graduated summa cum laude in Spring '09 with degrees in both humanities and political science, said she chose Florida State in part because of its study-abroad program, which consistently ranks among the top 15 in the United States.
Her broad range of studies in the Department of Interdisciplinary Humanities in the College of Arts & Sciences set the stage for her to choose two international programs — one in London and the other in Croatia — from among the 40 offered by Florida State in 20 different locations.
For example, she took Classical Greek Thought before heading to the Greek islands during a break in London program. She also visited France, Germany, the Netherlands and the Czech Republic.
"Studying abroad probably was the best experience I could have," said Blehl, who has studied German since high school. "I know London isn't the biggest leap in culture, but it's the little things that leak out about how different but how similar you are."
In Croatia, she joined a question-and-answer session with Montenegro Prime Minister Milo Djukanovic, who was just 27 when he oversaw the conversion of the Federal Republic of Yugoslavia and eventually the independence of Montenegro from Serbia.
"It's rare to get to meet such a political figure," Blehl said.
Her favorite extra-curricular activity in London was attending an unusual production of "Faust" staged in a warehouse redone with separate floors and multiple rooms. Theatergoers wander through the rooms, following actors through sets and performances designed to capture Faust's heaven and hell.
"It was the coolest London experience by far," Blehl said.
But it was a class in comparative politics at the London Study Centre that influenced her to add a second degree in political science in the College of Social Sciences & Public Policy. She had entered Florida State with so many credits from high school that she was almost finished with her humanities requirements at the end of her sophomore year.
"For me, college wasn't supposed to be about graduating in as little time as possible or being pigeonholed into an inflexible major," Blehl said. "It truly was about taking as many classes as I was interested in and broadening my horizons."
By majoring in humanities, she could select courses in art, thought, history, literature, music and film. She worked as research assistant to Kathleen Yancey, the Kellogg W. Hunt Professor of English and director of the graduate program in Rhetoric and Composition.
Yancey encouraged her to do independent research on a topic of her own choosing, and Blehl's work won a Spring 2009 Honors Thesis Award.
"Mary Kate has a natural curiosity and the gift of an agile mind, which together allow her to consider an idea from multiple angles and to see what others do not," Yancey said.
Blehl interviewed 42 undergraduates for her study on how students define writing in a technologically influenced environment.
"I've shown that FSU isn't just a research-based school for faculty — it's actually a university where students can take on worthy research projects independently," she said.
She also became one of two undergraduate students on the Faculty Senate's Library Committee when it was developing policies for the new "Learning Commons" in the Strozier Library basement. The commons, scheduled to open in Spring 2010, will include group study spaces, flexible seating, a café and a multi-media help desk.
Blehl hopes to parlay her international experiences into a career, perhaps teaching English. But she already thinks she'll change careers during her life.
Her parents understand. Her father, a physician with his own family practice, has returned to school to study bioinfomatics, the interface between computer science and biomedical science. Her mother, a nurse, is studying for a master's degree in public health.
"They influence me to want my own thing to do, not just a typical job," Blehl said. "I'm hoping something will pop up that I really feel passionate about."