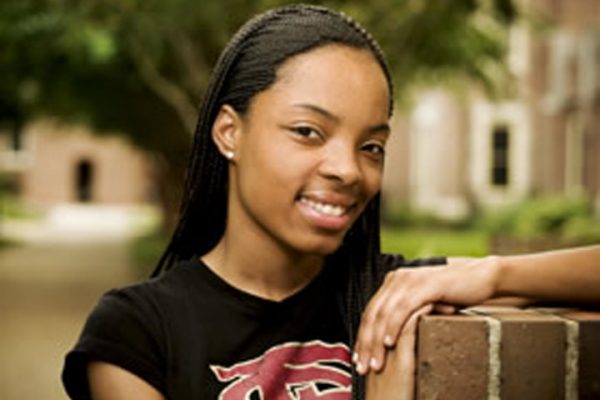 "FSU's CARE program meant everything for my whole collegiate career."
Senior media studies student Joneé Lewis says the C.A.R.E. program at The Florida State University set the foundation for her college career and helped grow the confidence that has led to honors.
"FSU's C.A.R.E. program meant everything for my whole collegiate career," Lewis said. "I didn't realize how great the program was until I went through it myself."
Lewis earned a 4.0 GPA in high school and won an African-American Leadership Scholarship and a Polk County Seminole Boosters Bobby Bowden Scholarship.
She also qualified for Bright Futures but didn't perform as well as she had hoped on standardized admission tests, so she applied for the Summer Bridge Program at the Center for Academic Retention and Enhancement.
C.A.R.E. is designed to provide an alternate admission process for first-generation college students or students who are disadvantaged and then help ease their transition into college. Incoming freshmen spend a week in orientation and take their first six hours of classes during the summer.
"Joneé is curious and tenacious," said Laura Arpan, associate professor in the College of Communication & Information. "She exemplifies how we want our students to stretch and grow while they are here and what we want them to strive for when they leave."
C.A.R.E. staff and advisors continue to support and advocate on behalf of participants throughout their undergraduate years.
"They genuinely care about you and they're there for you anytime," said Lewis, a Media/Communications Studies major.
Lewis, the oldest of three girls from a single-father household in Lakeland, has been on the Dean's List every semester, served as academics chair and now president of the W.E.B. DuBois Honor Society, hosted WFSU-TV's University Update segments and covered sports for the twice-weekly campus newspaper, FSView.
She won "Writer of the Month" at the FSView where she covered swimming, tennis and women's basketball. But her favorite story involved track. She interviewed Florida State sprint sensation Walter Dix just before he went to the 2008 Olympics where he won two bronze medals.
"Even though I come from a single-parent home, I was blessed. My father was always there, supporting me in everything," Lewis said. "I realize a lot of people don't have that."
She has sought to return her blessings by mentoring in the C.A.R.E. program and at the Life Skills Community Center in Tallahassee. The center is a high school for young people who are seeking to make up for lost time and earn a diploma.
"The students are the same age as we are, but they went down a different path," Lewis said. "They're so appreciative of the time we spend with them, getting to know them, helping with basic reading and math skills."
She described her own study habits to a young man who is now on track to graduate.
"He said he wanted to do everything I did — he really wanted to be at Florida State. That meant a lot to me," Lewis said. "I told him about the programs we have at FSU and to not allow his situation to stop him."
As part of the W.E.B. Dubois Honor Society, Lewis volunteered for a Halloween carnival at the Lawrence-Gregory Community Center on Dade Street, helping children turn cardboard boxes into tombstones and fill garbage bags to make scary figures.
"The kids loved it," Lewis said, "and so did we."
Lewis calls herself a "die-hard 'Nole" who doesn't miss a home football game and watches Florida State soccer, too.
Her father, John Lewis, graduated from Florida State in 1974 with a B.S. in accounting, but she said she tried not to let that aspect influence her when she visited campus. "Florida State is a highly rated university and it was a perfect fit for me," she said.
Her sister, Jaqua Lewis, just started her freshman year at Florida State. Her youngest sister, Jalaycia, is in middle school.
The oldest Lewis sister said her media studies program at Florida State has helped her understand the social effects of media and what certain groups prefer and what they dislike. She believes such research courses will help her when she seeks a master's degree in broadcast journalism.
Lewis already has completed internships at WCTV in Tallahassee and the Tallahassee Democrat.