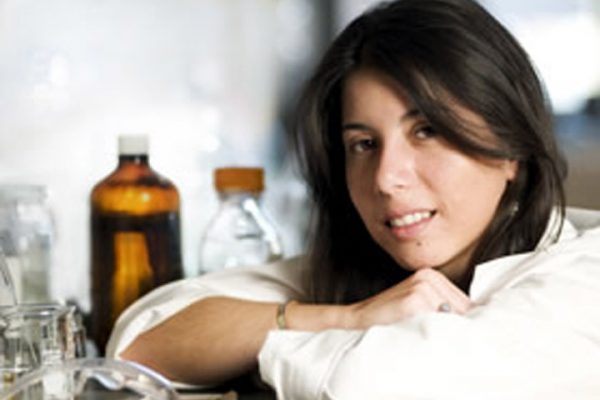 "As a student in WIMSE (Women in Math, Science & Engineering), I was immersed in the research field and met many wonderful professors who have served as my mentors."
When Claudia Avalos was trying to decide where to go to college, she received a brochure about the support system for Women in Math, Science & Engineering at The Florida State University.
As a freshman, she earned a paid position working with Nick Cogan, an assistant professor in the Department of Mathematics, and helped develop a novel equation for run and reverse bacteria in ocean environments.
With a team of students, she has been helping develop a system to make biodiesel fuel from used cooking oil to decrease Florida State's gasoline costs.
She won an Undergraduate Research and Creative Activity Award to study a chemical reaction that could help lead to cheaper ways to synthesize antihistamine drugs, part of her work in the lab of Gregory Dudley, an associate professor in the Department of Chemistry and Biochemistry.
With the help of her Florida State mentors, she earned a competitive summer fellowship to a Minority Students Health Careers Motivation Program where she studied such subjects as gross anatomy, dissected bodies and made clinical rounds as if she were a full-time medical student.
Avalos credits WIMSE, a living and learning community of first-year students who share interests in math, science and/or engineering. They live in Cawthon Hall, interact with award-winning scientists and researchers and network to win paid positions in labs. After freshman year, the students continue to receive special support.
"Every opportunity offered to me has been through WIMSE, so many …" said Avalos, her voice breaking slightly.
In her senior year, Avalos is working as a research assistant with Timothy Cross, director of the Nuclear Magnetic Resonance Program at Florida State's National High Magnetic Field Laboratory and a professor in the Department of Chemistry and Biochemistry.
"I spend all my free time in the labs," Avalos said.
Well, not quite all, she amended.
Avalos takes part in Japanese events hosted by widely known Tallahassee restaurateur Lucy Ho and performs as a Japanese dancer in the annual Asian festival of Tallahassee. She has studied Japanese since coming to Florida State but also knows Spanish from her years in her native El Salvador, French since pre-kindergarten in a French-run school and, of course, English, which she started learning in the sixth grade.
She also teaches pre-school children in a multi-ethnic church, volunteers at an assisted living facility through Big Bend Hospice, took part in LeaderShape through the Florida State Center for Leadership and Civic Education and helped do "cool chemistry experiments" at a Chemistry and Biochemistry Outreach program with Tallahassee schools.
She even finds time for her boyfriend, though she admits they go on a lot of study dates.
Cogan praised Avalos' drive and confidence. "She constantly drives herself to broaden her horizons and learn more — both in quantity and variety," he said. "I have seldom met a student with as broad a set of interests who can actually learn and contribute to all of them."
Avalos' goal is to earn both a medical degree and a doctoral degree so she can conduct research and practice as a geriatrics physician, in part to honor her grandfather who would pick her up from school in El Salvador and tell her she had the ability to do anything. In 2004, her father's company transferred him, and the family moved to the United States. They live in Weston near Fort Lauderdale.
As she entered her senior year at Florida State, she feared she would be forced to return to El Salvador when she turned 21 and would no longer be eligible for a U.S. visa through her parents. But the family won green cards in time. Avalos said Florida State professors helped cut through the red tape.
It was the first news she, her two siblings and her mother told her father when he awoke from a coma in August after being ill with pneumonia.
"It was the happiest moment," Avalos said. "My father was so much better … and we were no longer in limbo."