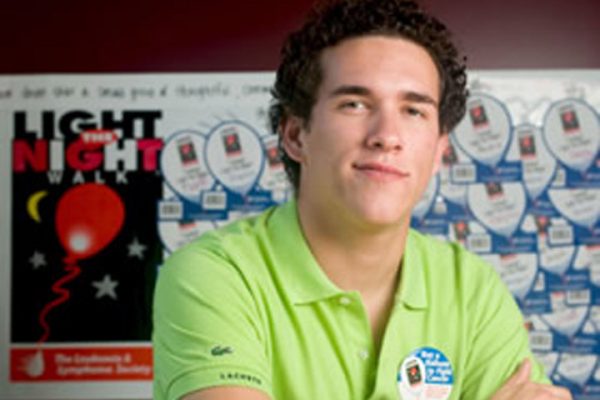 "The moment I knew for sure my choice would be FSU was when I got the news I had been accepted into the Service Scholar Program and knew my passion for service would be fostered."
The U.S. Embassy evacuated Jaime Bayo's family to Miami during a brutal war in El Salvador. A few years after they returned to the Central American country, rebels kidnapped Jaime in a quest for ransom money and his father's vehicle. He was 9 years old.
The kidnappers let him go the same day, but the scare sent him and his family back to the United States to live with his grandparents in Orlando.
"When you grow up during a civil war, you see the worst of people. It gets you to want to be able to do the best you can for humanity," Bayo said.
For Bayo, the memory not only remains vivid but influenced him to become a volunteer in community service. And his volunteer work led to his selection as a Service Scholar at The Florida State University.
Typically, 12 incoming freshmen are awarded the four-year scholarship, and each is required to attend sessions on leadership and advocacy skills through the university's Center for Leadership & Civic Education. They also must devote 75 hours to community service every semester.
Bayo, now a senior, has served more than 1,000 hours during the past three years while earning a 3.5 GPA.
His experiences influenced him to change his major from Studio Art to Interdisciplinary Social Sciences in the College of Social Sciences & Public Policy. One of his sculptures, a turtle with vines and roses climbing up its body, was purchased by the Union Art Gallery and is still on display.
"I realized I liked my art major, but I really like volunteering and wondered, 'How can I turn this into a job?'" Bayo said.
He plans to graduate in spring 2010 and seek a master's degree in Public Administration to prepare to be an administrator with a nonprofit agency, much as he has been doing as a volunteer at Florida State.
Bayo particularly points to his work to start "Light the Night: FSU Chapter," the first collegiate chapter in the nation formed to sponsor a local fundraising walk as part of a national event for The Leukemia & Lymphoma Society.
He was only a sophomore when he invited eight friends to his home for a pasta dinner and convinced them to help him start the fundraiser. He didn't have furniture yet, so they sat on the living room floor. None of the others had heard about "Light the Night," but Bayo had joined the walk and become a team leader while in high school.
Two years later, the planning committee consists of 35 people, and the organization has an office at the Center for Leadership & Civic Education.
Last year, "Light the Night" garnered the backing of more than 50 student groups and drew more than 1,000 people to the evening walk around the FSU campus. People hold twinkling balloons: white for blood cancer survivors, red for supporters and gold in memory of someone who died from a blood cancer. The event, with its cotton candy, bounce house, face painting and game show with mobile phones as prizes, raised more than $70,000.
"My sophomore and junior years I put in more hours than a full-time job," said Bayo, who has transitioned from president and event chair to an advisory role. "Now it doesn't take nearly as much of my time."
"Light the Night: FSU Chapter" was honored as the 2009 Organization of the Year by the Florida State Division of Student Affairs. Bayo was inducted into the Seminole Torchbearers in recognition of his campus and community service.
Bayo, who speaks fluent Spanish, also translates for the nonprofit Florida Law Related Education Association, which seeks to improve justice and democracy. He has served on the Oglesby Student Union Board as a representative to the Student Government Association.
He also has been a mentor in the Social Justice Living-Learning Community, where students with an interest in social justice live together in the newly completed Wildwood Hall.
This year, he's developing his Honors in the Major project to create a business plan and develop an educational program for people who work with nonprofits in Central and South America. His plan is to start in Panama.