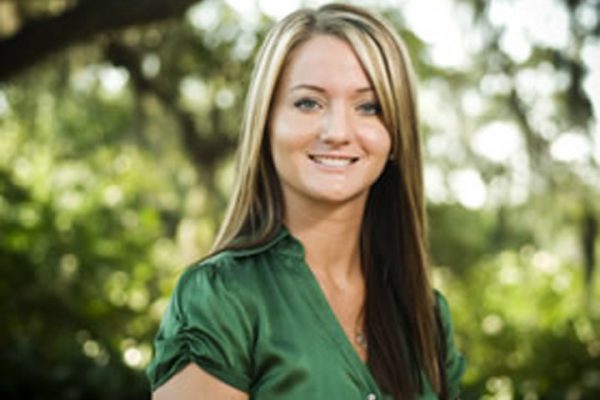 "Each and every one of my accounting professors has provided me with the guidance and tools vital for survival in a career in accounting."
Not even Tina Gantley's nose stud and what she calls her "less conservative" style hampered her from graduating in August as the Outstanding Master's of Accounting Student of the Year.
The previous year, she was honored as the Outstanding Senior in the Undergraduate Accounting Program.
Here are some of the reasons why: As a graduate teaching assistant, Gantley would cancel personal plans if a student needed to see her outside office hours; she used what she had learned to help students understand accounting theory by translating it into real-world examples; she did so well in her internship at the global accounting firm Grant Thornton, LLP, that she was offered a position in the Fort Lauderdale office. South Florida managing partner Doug Gawrych even went to Tallahassee to present her with the master's award as outstanding student.
Gantley also worked off campus 30 hours a week at a call center as an undergraduate and spent 10 hours a week tutoring at Tallahassee Community College as a graduate student. Her part-time work offset costs not covered by her scholarships, which included the E.C. and Tillie Allen Scholarship, the John E. Champion Scholarship, the Major Wright Accounting Scholar Award and the College of Business Achievement Scholarship.
And she maintained a 4.0 GPA as a graduate student, 3.96 as an undergraduate.
Her voice bubbled with laughter when she told about an embarrassing moment involving her nose ring during orientation as an intern at Grant Thornton.
She had taken part in "Dress to Impress" workshops sponsored by the accounting society Beta Alpha Psi and the Florida State Career Center and knew to wear a suit and heels. She had been told to remove all facial piercings except for conservative earrings. Her nose ring, though, was a very small stud.
"To be honest," she said, "I wore it the first day. We were going over administration policy and they showed us what not to wear. I had this picture of a girl and didn't understand what was wrong. Finally, I saw she had a small nose ring. I was embarrassed."
She hasn't worn one since in a professional setting.
Gantley chose Florida State because she was impressed by the university's friendly atmosphere and educational opportunities when she went to football games and tailgate parties with her brother, Sean Gantley, who earned his undergraduate degree in 2006 and his master's in 2008 in the FAMU/FSU College of Engineering.
She originally thought she would study criminology at Florida State but she tried an introductory accounting course, made high grades, thought "why not?" and declared accounting her major.
"Accounting ended up being really cool," she said, "Each and every one of my accounting professors provided me with the guidance and tools vital for survival in a career in accounting. My finance professors opened my mind to other potential careers. Along the way, I found out about forensic accounting."
Her goal is to reach the manager level at Grant Thornton within five years, eventually gaining experience in a diverse range of industries to then become a special agent with the FBI investigating financial crimes.
First, though, she will spend the fall semester studying for her Certified Public Accountant exam. She'll start her new job in January.