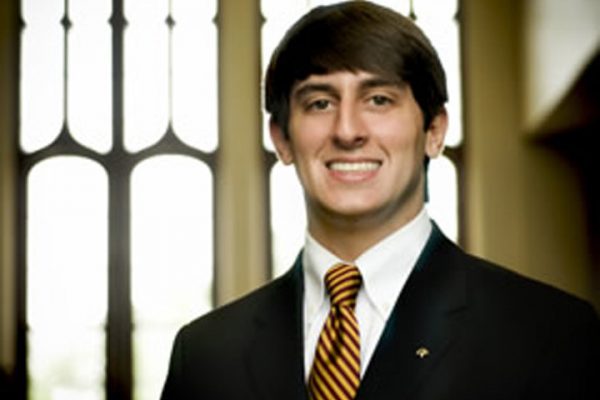 "Florida State is competitive, but it's a healthy competitive atmosphere. We're just more encouraging to one another."
Bobby Seifter takes leadership and service seriously. In his first semester as a freshman, he was elected to the Florida State University Student Senate.
That spring, he won an internship with Gov. Charlie Crist's office and was elected president pro tem of the Student Senate. His fellow senators honored him with the Bob Brandewie Student Life Senator Award.
As a sophomore, he became Senate president and earned a prestigious spot in the College of Law's summer program that draws undergraduates from more than 120 colleges and universities nationwide for a four-week immersion in law classes and possible careers in law.
He was honored with the Apollo Visko Leadership Award, given students who demonstrate innovative leadership at Florida State and have the ability to recognize and respond to student needs.
He joined Kappa Sigma fraternity and started volunteering two hours a week as a mentor for at-risk children with Youth Programs, a partnership between Florida State and schools in Leon and Gadsden counties.
All this activity comes on top of his studies. He has a nearly perfect 3.95 GPA.
Vice President for Student Affairs Mary Coburn says, "Bobby is an exceptional student leader. He has a rare understanding of how Student Government issues fit into the context of the broader University community. He is committed to making a difference at Florida State."
"A lot of freshmen ask me about getting involved on campus and wonder how I was able to do it so early," said Seifter, a double major in economics and political science in the College of Social Sciences and Public Policy. "What I try to tell them is not to be intimidated by older students. We're really all at an age where we're all able to contribute."
His contributions at Florida State included a bill to implement online voting for Student Government Association elections, which helped increase voter turnout from 2 per cent in the fall of 2007 to more than 16 per cent in the spring of 2009.
More recently, he sponsored a bill that made it easier and more cost-efficient for student organizations to receive funds through SGA, which is responsible for a $10.2 million budget.
Seifter sets aside 25 hours per week for office hours and spends four or five evenings each week at meetings of one of the hundreds of student organizations on campus.
"The biggest thing I've learned being Senate president is crisis control. Every week, there's a new drama," he said. "You don't want to spend your emotional capital on any one thing because these challenges come so frequently."
With the help of advisors in the Office of Student Affairs, he's also learned how to better prioritize responsibilities. "Socially and professionally, I'm learning a balance," he said.
This year, he plans to focus on his newest cause: "Protect our Professors," aimed at hiring and retaining the best faculty and staff despite difficult economic times by encouraging a spirit of giving among students. So far, the program has raised about $57,000 with a match from an anonymous donor for a total of $114,000.
Originally, Seifter chose to attend Florida State University after he made his first visit when temperatures were in the 20s. The Palm Beach County native not only liked the change in the weather and the atmosphere in the capital city but also, as he put it, "fell in love with the campus at first sight."
Why? He answers by saying he found Florida State President T.K. Wetherell's 30-second rule to be true: If you're a visitor on campus and look confused or lost, within 30 seconds a student will ask if you need help.
"Florida State is competitive, but it's a healthy competitive atmosphere. We're just more encouraging to one another," Seifter said.