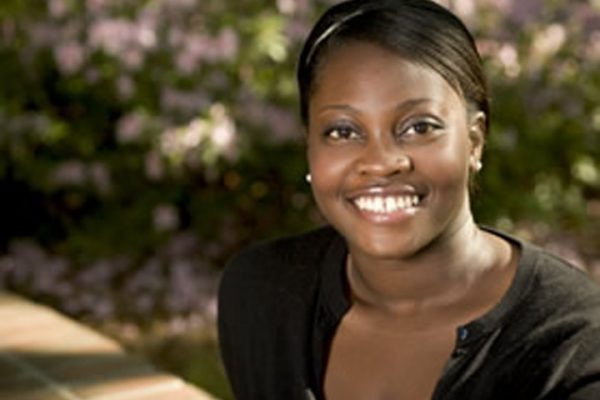 "FSU's diverse academic programs and the amount of freedom given students made it possible for me to explore various interests and find my niche."
As a freshman, Nadiya Boyce played saxophone with the FSU Marching Chiefs with music education as her major. As a sophomore, she made sure Dracula had his fangs when she co-produced the show as a theatre major. As a junior, she co-wrote a TV ad for a charity ball as part of a marketing internship. As a senior, she won two research grants for her honors thesis in psychology.
Somewhere along the way, she also switched to English education as her major — five changes in just over four years.
"At first, my parents were 'What?'" Boyce said. "I was confused about what I wanted out of life. It took me awhile. It was a matter of sifting through possibilities and finding my niche."
But she didn't want to be a seven-year senior. So she selected marketing…until the summer of her senior year.
"I started thinking about what I really love to do and what I really wanted," she said. "I love marketing and know it can help people indirectly. But I started recalling things that had happened to me in the past: a lot of older family members died, a high school friend was murdered.
"I wanted to do something with my life that helped people and families. Ultimately, you know what's in your heart."
So she again added to her courses and will complete the requirements with just one extra semester added to her four years of college. She will graduate in December with a double major, psychology in the Department of Psychology in the College of Arts and Sciences and marketing in the College of Business.
"FSU's diverse academic programs and the amount of freedom given students made it possible for me to explore various interests and find my niche," she said.
Boyce, from Deltona, said her parents—both of them nurses—eventually backed her decision to add psychology when they realized she would be taking science courses involving the brain and behavior that could directly impact marketing.
She started considering a project for her honors thesis just before the November elections and realized she was interested in figuring out why people expressed extreme opinions on certain issues.
She narrowed her focus with the guidance of Ashby Plant, director of graduate studies in the Department of Psychology whose research interests include attitude expression, prejudice and stereotyping. Boyce's research concentrated on anti-gay aggression.
Her project, aimed at understanding the motivations behind hate crimes, earned her the Bess Wards Honors Thesis Award and the 2009 Minority Undergraduate Research Award.
"Nadiya was excited in getting hands-on experience conducting research as well as developing an understanding of the social world and decreasing the prevalence of hate crimes in our society," Plant said. "I anticipate she can accomplish anything she would like in life, but I hope it involves research."
While working on her project, Boyce became nationally certified as a peer educator to work with Florida State's RENEW program promoting stress and time management, study skills and healthy relationships. In addition, she has acted as part of ensemble casts for two plays at Florida State and been a stage manager for a children's show in New York City.
After graduation, she plans to work, most likely in marketing, while she pursues a graduate degree part-time in psychology. Eventually, she would like to open her own practice.
Still, when she talks about her Florida State college experiences, she especially remembers the camaraderie within the Marching Chiefs.
"In a school as large as FSU, it can be hard to find that sense of belonging so fast," she said. "As a freshman, I always felt safe as a Marching Chief. Wherever you go, somebody was going to take care of us, whether in a random city or at a party."