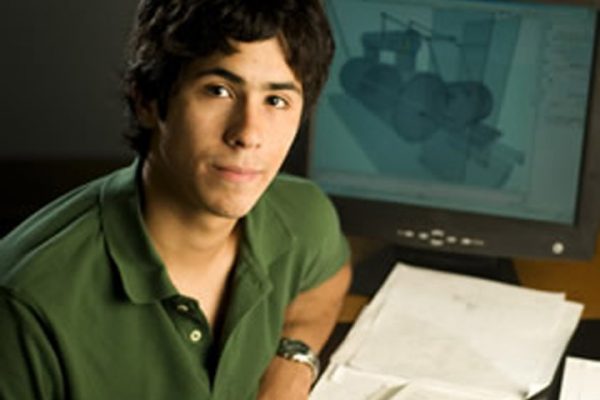 "I have been lucky enough to find professors who genuinely want me to succeed."
Gustavo Munoz chuckles when he says he chose The Florida State University because he wanted to study engineering and stay in Florida as far away from his Miami hometown as possible.
But then he starts describing his four projects as a research assistant, his poster presentations on different subjects at two professional conferences, his work in the Florida State National High Magnetic Field Laboratory and the civil engineering project that earned him a Mentored Research and Creative Endeavors Award this past summer.
"FSU professors take undergraduate students seriously and instead of giving me small tasks, they give me a sizeable portion of the research," Munoz said. "I have been lucky to have professors who genuinely want me to succeed."
Munoz is a first-generation college student whose parents moved to the United States — his father from Colombia and his mother from Guatemala — before he was born. He's a self-described surfer who likes a good swell during hurricane season. He also plays intramural soccer.
Munoz interrupted his work in the Department of Civil & Environmental Engineering in the Florida A&M University/Florida State University College of Engineering to study physics for a year.
He believes his physics courses gave him a stronger theoretical understanding of matter and energy in civil engineering. He plans to graduate in May 2010.
For two years, Munoz assisted in the research of Ken Walsh, then a visiting professor who also held a post-doctorate position in the MagLab, to improve a mechanism used to mitigate the movement of buildings during earthquakes, using the energy of the quake itself. Munoz even recruited a friend, Marcos Colina, considered an expert on AutoCAD, to help with 3D computer designs of sockets and gears.
Munoz continues to work with Walsh to resolve some problems with the mechanism, but Munoz said his mentor already has applied for a patent.
This semester, Munoz worked with Amy Chan Hilton, associate professor and associate chair in the Department of Civil & Environmental Engineering, on the environmental impacts of biofuel energy production systems.
Munoz also had conducted research with other professors on experiments with condensed matter and on efforts that essentially would identify safety problems in bridges earlier than is now possible.
In addition, he was responsible for computer simulations in an anti-bioterrorism project involving Florida State and two other universities on the flow of biological toxins through heating, cooling and ventilation systems. The goal is to determine the best routes to get people safely out of a building in such an emergency.
"Gustavo is motivated, dedicated, and bright," Hilton said. "It is for these reasons I believe that he has been able to tackle a wide range of research projects in such a short time."
Munoz made poster presentations at two 2009 conferences, both involving homeland security.
"I met a lot of people who not only gave me good suggestions on my projects but also showed me how the future of science and engineering is interdisciplinary," he said. "The conferences broadened my scope of what civil engineers can do by applying their knowledge to many different fields, including homeland security."
Munoz plans to eventually earn a doctorate in civil engineering and move into explorative fields either in academics or industry.