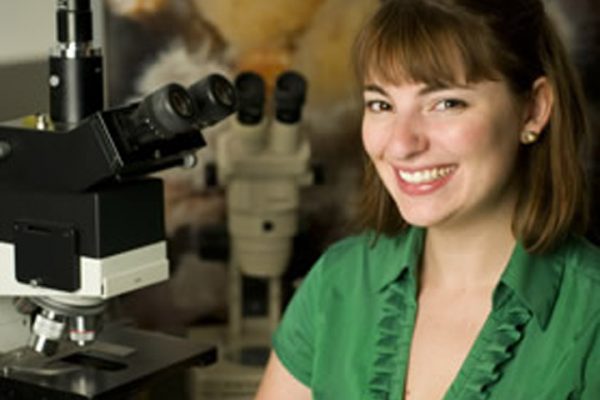 "Professors at Florida State University have helped guide me and helped me feel passionate about biology."
When Kim Reuter needs sea urchins for her marine biology project, she ventures to Port St. Joe on the coast to snorkel for them.
Her project, using about 200 sea urchins, won her an Undergraduate Research and Creative Activity Award for the summer, and she will work with another 300 to 400 sea urchins this fall in her final semester as an undergraduate in biological science at The Florida State University.
Her work with the sea urchins and her keen observations could one day be used in efforts to save coral reef environments.
"Basically, I decided I needed more hands-on experience with biology," she said. "I was learning only so much through textbooks and I felt that I needed to know more about my major."
So toward the end of her sophomore year, she sought out Don Levitan, a professor in the Department of Biological Science in the College of Arts and Sciences. His research interests include the ecology and evolution of marine invertebrates.
The fit was a natural. Reuter earned certification as a scuba diver when she was just 13 years old.
Levitan recognized her desire to apply theories to lab activities and together they developed a project for her on the spawning cues of sea urchins. Sea urchin research can apply to coral reefs as well.
Reuter had to collect the sea urchins, care for them in tanks, culture marine algae and conduct spawning experiments under various conditions. Levitan gave her guidance, then left on a research trip to British Columbia. When he returned a few weeks later, she told him that she had some "interesting results."
"From my perspective, I was hoping she had gotten the system set up and figured out what a spawning sea urchin looked like," he said. "To my shock, she presented preliminary results and made some novel observations on patterns of behavior."
"Dr. Levitan," she told him, "when I induce animals to spawn via chemical injection or by raising temperatures, they spawn in place, but if I use sperm or phytoplankton, they climb to the top of whatever surface is available and spawn synchronously… Do you think this distinguishes between a spawning cue and a stress response?"
As Levitan puts it: "I wish my grad students were that keen."
In an understatement typical of Reuter, she said her research has opened doors for her.
For example, she was selected to make a poster presentation at the premier U.S. conference for marine ecologists, the Benthic Ecology Meeting, held this year in Corpus Christi, Texas.
In the summer, she joined Levitan and his graduate students for their annual field trip to British Columbia, where she worked as his primary technician. She also worked on an independent project in Canada.
"It was eye opening, just like the Benthic Ecology Meeting, in the sense that I was meeting numerous people who cared about my research, who were themselves doing amazing projects, and who were genuinely interested in giving me advice," Reuter said.
Before heading to graduate school, Reuter plans to spend 17 months on an around-the-world trip to include a five-week Chinese language course in Beijing, 10 weeks in South Africa assisting with monkey research and a hike through the base camp at Mount Everest. Much of the costs will be covered with a small inheritance from her mother, who died two years ago.
At the time, Reuter sought grief counseling at the University Counseling Center and took a semester off to be with her family. Since then, when her friends at Florida State need to deal with anxiety over careers, families, relationships or finals, she suggests they go to the center.
"Hands down, the Counseling Center at FSU is one of the university's biggest assets for students," Reuter said, "and it's free."
Reuter, her father and both her sisters, natives of Germany who moved to Fort Myers, became U.S. citizens in a naturalization ceremony in Tampa just in time to vote in the November presidential elections.
"I was not prepared to be as emotional about it as I was," Reuter said. "People try their whole lives to get into the United States, and it made me realize how fortunate I am to be here. I saw a lady 96 years old. I swear I started crying."
In her mother's honor, Reuter decided to find a way to give back. She checked several community groups and chose to volunteer three to six hours weekly as a respite caregiver with the Alzheimer's Project of Tallahassee. Her heart has been particularly touched by one couple, and she finds herself staying to visit with the wife when she returns from errands.
"She had been trying to get fabric to cover a chair for eight months," Reuter said. "In all that time, she was not able to get out to pick the fabric."
Now, she has.