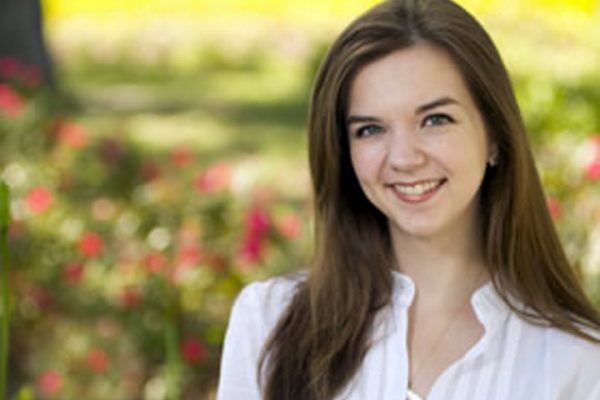 "FSU had everything I wanted in biology, and I really felt like it was a place I could fit in socially and academically."
Before Karen Ritter even started her senior-year studies at The Florida State University, she won a grant from the American Cancer Society to support her summer research on a gene in embryonic mouse stem cells that could help in the fight against brain cancer.
"I went into college thinking I was pre-med, but the more I learned about medical school, the more I realized I was much more cut out to do research," said Ritter, who plans to graduate with a concentration in physiology and neuroscience in the Department of Biological Science in 2010 and then go to graduate school.
Her transition came as she joined the research team in the lab of David
Gilbert, the J. Herbert Taylor Distinguished Professor of Molecular Biology.
"I can't even tell you how much I have developed as a scientist by working in the lab," Ritter said. "Dr. Gilbert wants to know exactly what's going on, but he doesn't tell me what to do. He's there to provide guidance, but he doesn't do too much or too little. I really have been able to establish my independence as a scientist."
Gilbert met weekly with Ritter as she acquired bench skills, and they discussed options for her research. "But I wanted her to make the choice, so I gave her a lot of reading assignments and we worked out a plan," he said. "Karen fit right into the lab, and everyone was impressed with her curiosity, attention to detail and desire to make things work."
Ritter works full-time in the lab during the summer but is forced to cut her hours when classes resume. She does her best to maintain balance in her life.
Every morning, she takes time to read inspirational Bible verses while she's still sitting in her car in the parking garage. Each day when she gets home, she takes anywhere from 10 minutes to an hour for herself to get her mind off school, even if it's just to do her nails or a few ballet stretches. She's taken dance for 14 years, including courses for non-dance majors at Florida State.
"When I read my Bible, I start the day with a peaceful feeling," she said. "By the end of the day if I haven't had time to relax, I wake up the next morning feeling stressed, so it's counterproductive not to take time for myself."
Ritter is particularly enthusiastic with her work in the newly formed Student Council for Undergraduate Research and Creativity, whose goal is to publish an undergraduate research journal and develop programs to encourage undergraduates to join research teams.
In the fall, the council plans workshops to advise young students on such subjects as how to approach professors to ask for work in the lab. "We're so new we're flying by the seat of the pants right now," she said, "but we're doing a lot of planning."
Ritter also has been active in Women in Math, Science and Engineering and is treasurer of the Tri-Beta Biological Honor Society.
She hopes to eventually have her own research lab and teach at a university. She's getting practice as a teaching assistant in the Department of Biological Science for the fall semester.
She nearly breaks into laughter when she explains that she's not only getting paid to be a TA, she's also earning college credit. And the best part? "I get teaching experience before I get into graduate school."