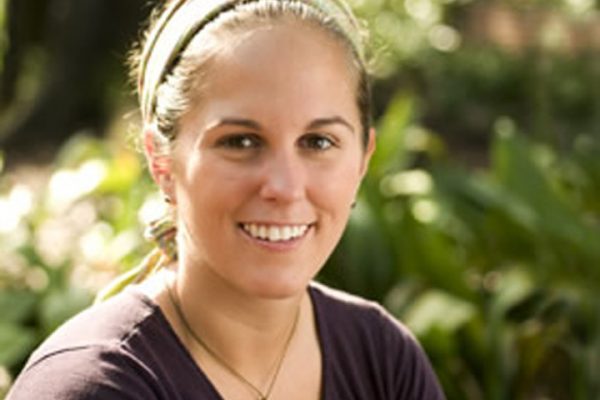 "Florida State has provided everything I could ever want in a university — top-notch faculty, research opportunities, a community atmosphere."
As a senior at The Florida State University, Shannon Scott figures she got paid to take classes all over again when she became a teaching assistant in the Department of Biological Science.
"When you teach," she said, "that's when you know you really know the material."
Scott moved right into the College of Medicine at Florida State after she graduated magna cum laude in May with a pre-med degree in biological science. She plans to become a pediatrician.
When she went on a medical mission trip to Buff Bay, Jamaica, she made time for the children while doctors saw their parents. "All these people would bring tons of kids to the clinics," Scott said. "I would go outside, let the kids listen to their hearts with my stethoscope. I taught them yoga. Being with them was my favorite thing."
Her work at Camp Boggy Creek in Eustis had already cemented her decision to work with children. She was so determined to make a difference that she drove five hours from Tallahassee to volunteer at the camp for seriously ill children, not only in the summer but also for family weekends during the school year. She has spent more than 350 hours volunteering at the camp.
In an understatement, Scott called her time as a camp-activity pal "playing."
She took advantage of her opportunities at Florida State as soon as she started as a freshman by living in the Bryan Hall honors residence, which provides a small community for first-year students. At least one course is taught every semester in the 22-seat classroom in Bryan Hall.
"I could roll out of bed just before class started and not be late," Scott said. Some days, she even wore her pajamas to class, but she never lost sight of the reason she was there.
"Bryan Hall had an impact on getting me involved with organizations on campus," she said. "I got one-on-one opportunities with faculty. I learned about international programs, about research."
Scott, who is from Winter Park, spent a semester in Florida State's Florence, Italy, program. "Italians showed me a different way of life. They taught me to be more relaxed and free. It was good to see the history and realize how young America is."
For the rest of her undergraduate years, Scott moved into the Chi Omega sorority house, often joining in local community service projects, including raising money for the Make-A-Wish Foundation of central and northern Florida.
She spotted one of her favorite professors volunteering at Habitat for Humanity. "Dr. Thomas Keller inspired me," she said. "He would give you an assignment to do and trust you to figure it out yourself. But he always has an open door. He would stop whatever he was doing to talk to you."
Scott became active with Keller, an associate professor of biology, in his research lab. She studied the expression of muscle protein titin in smooth muscle cells with a focus on pelvic organ prolapse. The goal is to one day prevent the problem.
"Shannon did an extraordinary job in working on three research projects in my lab," Keller said, adding that Scott had an opportunity for a prestigious research fellowship but chose to go to medical school, instead.
"As Shannon develops her career as an MD, I sincerely hope she finds opportunities to apply her outstanding ability to medical research," Keller said.
Scott presented her research at an ACC Meeting of the Minds conference at North Carolina State University and considered the trip one of the highlights of her college years.
"I spent the entire conference with seven brilliant FSU students and was so proud to be a Seminole," she said. "We were not only interested in our selected fields but were eager to learn from all different disciplines. The conference proved to me that FSU educates its students in not just one field of study but teaches them to be well-rounded."
Scott said she elected to do her graduate work at Florida State because of its collaborative atmosphere. Her brother, Blake Scott, also earned his undergraduate degree in history from Florida State.
"I think Florida State, especially the medical school, is community based, not competitive based," Scott said. "We do research at FSU, but it's not the sole focus of the faculty. The focus is to educate students and be mentors for them."