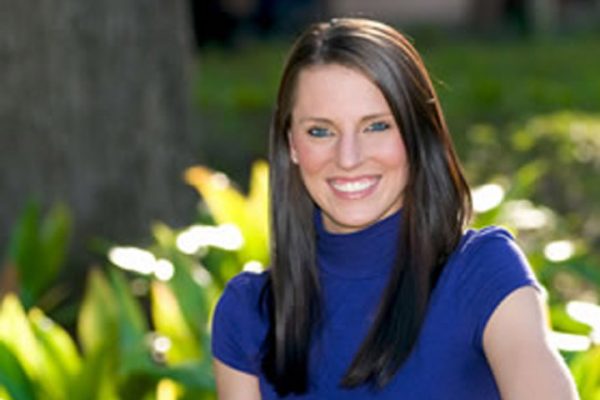 "Since I have been at FSU, I have been involved in various organizations and community service projects. I have dedicated myself to a diverse set of organizations in order to become a well rounded individual."
"When I made a trip to Florida State University during my senior year of high school I knew that FSU was the right school for me. The campus atmosphere made me feel right at home. I also knew that FSU would offer me many opportunities to pursue my dreams. Since I have been at Florida State, I have fulfilled many of the goals I had hoped to accomplish."
Krista Markham, a junior in the College of Social Work, is a dedicated servant leader and exemplary student at FSU. As a member of the Service Scholar program, Krista is among a small, distinct group of students at FSU who are honored with a scholarship each semester for their commitment to public service and scholarship. She serves on the student-run executive board as secretary.
As a founding member of the FSU campus organization, Krista has been an integral member of the Leukemia & Lymphoma Society's Light The Night Walk. She has served in the positions of Volunteer Development Chair and the Event Co-Chair, and is the 2009 Event Chair. The purpose of Light The Night Walk, which takes place in November, is to bring help and hope to people battling blood cancers.
"Light The Night has become very close to my heart. After Florida State's involvement in the walk in 2007, The Leukemia & Lymphoma Society chose to put Light The Night in the hands of FSU students, making it the first collegiate chapter in the nation. The 2008 Light The Night Walk was the first completely student-run walk. One of the goals that we have for Light The Night is to bring the FSU community and the Tallahassee community together to reach a common goal."
Krista has also served as a Guardian Ad Litem, where she represented and advocated for abused, neglected, and at-risk children in family court and child custody cases. Additionally, as an Outreach Program Team Leader through the Center for Leadership and Civic Education, Krista led weekly trips to the Boys & Girls Club of the Big Bend.
"Since I have been at FSU, I have been involved in various organizations and community service projects. I have dedicated myself to a diverse set of organizations in order to become a well rounded individual."
Not to mention Krista's involvement with Relay for Life, Dance Marathon, and the America Reads program where she mentored first graders at Oak Ridge Elementary school. Described by her peers as "the first to lend a helping hand, give helpful advice, or donate a few hours of her time to help out an organization or friend in need," Krista personifies the character of a true Seminole.
In addition to her involvement in community service endeavors, Krista is also an active member of her sorority, Gamma Phi Beta. She was a finalist for the Jon Dalton Service Award, a prestigious honor which highlights a female in the Greek community for her commitment to service, leadership, and sisterhood.
Krista is a recipient of the 2009 Serviceship through the Center for Leadership and Civic Education, which will enable her to travel to South Africa this summer. She will be volunteering with HIV and AIDS infected clients and their families in Upington, South Africa for six weeks. "Volunteering abroad is something that I have always dreamed of doing. I feel so honored to have this opportunity."
Following graduation, Krista plans will work towards her Master's in Social Work here at FSU. "I plan to continue my volunteer work in the community and to become a community leader. I hope to work as a social worker with terminally ill patients and their families. One of my favorite books is Dying Well by Dr. Ira Byock. He has inspired me to help families make the end of life a positive experience. Even if I only help one family I feel that all my hard work will have been worth it."