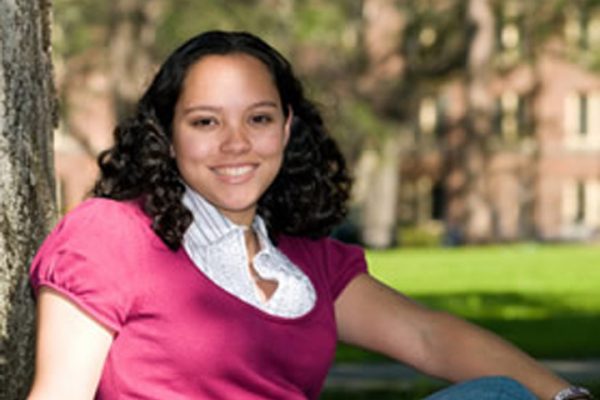 "I was quite intrigued by the College of Social Sciences and all of the educational programs that it offered…"
Elizabeth Ann Pagan can remember the moment she fell in love with The Florida State University.
"As soon as we turned onto College Avenue, everything seemed to fall into place. I saw the welcoming fountain of Westcott and the historic architecture of Ruby Diamond and knew there was no turning back," she recalls. "Even though I was born and raised in the heart of Gator country, also known as Gainesville, Florida State University has always felt like home."
The College of Social Sciences became Pagan's local academic address. "I was quite intrigued by the College of Social Sciences and all of the educational programs that it offered, specifically the areas of study that focus on International Affairs and Political Science," says Pagan, who, with dual majors in those areas, is in her third year at Florida State.
With her pursuit of these two courses of study, Pagan combines her interests in global human rights issues, modern languages (Spanish is her concentration within International Affairs) and international travel as a means of greater engagement with cultures and peoples of the world. "My specific areas of academic interest are issues related to international development. I am particularly fascinated with East Africa and am very eager to delve into coursework on such topics as ethnic conflict, political history, universal education and refugee movements," she says.
With the award of a Summer Serviceship Scholarship from the Center for Leadership and Civic Education, Pagan was funded to spend "an unbelievable summer" in the heart of East Africa. She worked in Uganda for two months as a volunteer with local non-governmental organization Kyosiga Community Christian Association for Development. "The experience was life-changing and is something that I will never be able to forget," she says.
The 20-year-old, who anticipates graduating in spring 2010, is minoring in history. In addition, she expects to earn an Undergraduate Certificate in Leadership Studies, an interdisciplinary, multidimensional, experiential and multicultural program that combines social change theories of leadership with practical leadership and service-learning experiences, as well as a Global Pathways certificate, which, designed by FSU Academic Affairs and Student Affairs, helps students maximize the rich cultural learning experiences available on the Florida State campus, in the community and abroad. "Florida State University has enabled me to become a global citizen. The university has fueled my passion for service, leadership and positive change."
Pagan is a member of the Phi Eta Sigma Honor Society, the National Society of Collegiate Scholars, Golden Key International Honor Society and the Omicron Delta Kappa (ODK) National Leadership Honor Society. She was admitted to the Florida State Honors Program with her 2006 enrollment in the university.
After graduation, Pagan plans to pursue a master's degree in International Development. "At the moment, I hope to attend Oxford University, George Washington University or the London School of Economics," she says. "In the future, I hope to work in several international and developing countries" and perhaps for Amnesty International or an international non-governmental organization.