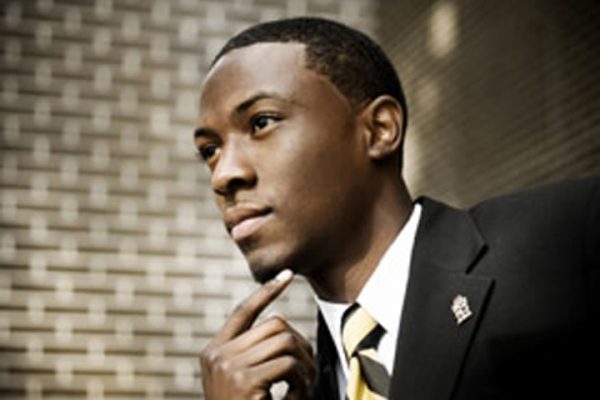 "I was amazed at the number of people willing to invest their time and resources in a kid who had yet begun to truly find their self."
"Rarely do you find schools with a true representation of diversity coupled with excellent academic programs and extracurricular activities." Marvis Barnes, a campus leader and Business Management major, has always been a fan of Florida State University. "Luckily for me, my father received his Master's from FSU…not only did I have a family tie to the quality of education you could receive, but I've been able to visit the school since I was a little kid. From whatever angle I examined my options, Florida State unequivocally came on top."
Described by his peers as "a shining example for minority students as well as the campus as a whole," Marvis has made it his personal mission to ensure the success of his peers at FSU. "As an underrepresented population in college, the mission of developing my peers is of utmost necessity. By being passionately involved in action-conscientious and philanthropic organizations, I have tried relentlessly to help engrave the notion of succeeding in all aspects of life; specifically career, family, and community."
Marvis has been involved with a variety of student and community organizations since his arrival at Florida State. He credits his successes to the many individuals on and around campus who haven taken an interest in his personal development.
"I was amazed at the number of people willing to invest their time and resources in a kid who had yet begun to truly find their self. Since then, I have truly tried to repay the favor by giving others the same encouragement that was bestowed upon me."
As a member of the FSU College of Business Golden Opportunities Mentorship Program, he participated in the "Lunch with a Rotarian" program. This program, sponsored by the Rotary Club of Tallahassee, is designed to give College of Business juniors, seniors, and graduate students the unique opportunity to network with local professionals in their fields of interest and for career exploration with no strings attached.
His leadership on campus ranges from serving as President of his fraternity, Alpha Phi Alpha and former President of the NAACP, to working as a Resident Assistant for FSU Housing. "By becoming involved with many organizations and simply meeting as many people as possible, I have been able to impart the bits of knowledge that I have come to know. Whether focusing on career development skills or simply giving encouraging advice, I have been trying to positively impact my peers in any and every way."
Marvis has fulfilled his desire to be a role model to others through mentoring and service. In the community, he has volunteered with children at Bond Elementary School and the Boys and Girls Club. He has also served as a mentor for Student Support Services and a mentor for the Black Student Union Freshmen First Program.
"Serving in leadership positions has probably been my best vessel to [impact my peers]. Working as a Resident Assistant allowed me to partake in the development of new Seminoles year after year. Aiding others became a valued experiences."
Marvis has been instrumental in FSU's Progressive Black Men organization, a Student Government Association Senator, and has served on the Martin Luther King Jr. Celebration Committee. He is a member of the National Residence Hall Honorary, Omicron Delta Kappa leadership honor society, and the Sigma Alpha Lambda leadership honor society.
Besides his innumerable extracurricular activities, Marvis has prioritized academically-enriching experiences. He has served as an intern at the Florida House of Representatives through the Democratic Representative Internship Program. He also interned at ACS Governmental Solutions, a Fortune 500 Business and IT Outscoring Firm. Marvis also participated in the University of Chicago Business Summer Scholars Program.
Marvis aspires to be actively involved in his community throughout his life; specifically "with non-profits and various programs that focus on youth mentoring and scholarship in underprivileged communities." Marvis will graduate this spring and has accepted an offer to work for Johnson & Johnson in their Leadership Development program. After working for several years, he plans on entering a MBA program.