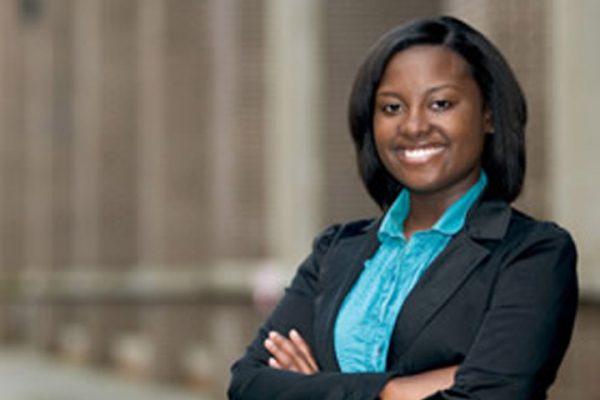 "I am inspired to take on the responsibility as an American to do my best to serve a country that is progressive and diverse."
"At a time when public political participation is at an all time high, and we see history being made daily, I have the great academic advantage of being able to apply what happens in my classrooms with what is happening in my living room." Amber McIntyre, a Political Science and Religion double major, has always wanted to study at Florida State University. Home to the state capitol, Amber knew she would be able to witness "Florida's political climate and earn a degree that would lead to a career in public service."
Amber has taken full advantage of the many opportunities available for students with her interest both on and off campus. She is a member of the Alpha Kappa Alpha sorority and has served in leadership roles for FSU's NAACP chapter. Additionally, she has volunteered with the America Reads program through the Center for Civic Leadership and Education. Amber's heart for service led her to become a member of the Alternative Break Corps (ABC), through which she was afforded the opportunity to serve as an HIV/AIDS educator in New York City during spring break of her sophomore year.
"I would suggest ABC to every student. It gives you the rare opportunity to make a difference in someone's life, using your own unique talents. ABC redefined my definition of volunteerism. Working together with a group of people all interested in a common goal is a joy. I learned a lot about leadership, the value hard work and compromise. We worked directly with individuals who had been living with HIV/AIDS. It was a long trip, with less than luxurious accommodations, but it felt good to do something for others despite our own obstacles."
As an FYE Peer Leader, Amber had the chance to connect with first-year students at FSU. "Peer leading was practical and fun. The content of the program left me and my students with an understanding how important it is to maximize the time we spend here at FSU. Our university has arranged it so every student has the tools to succeed, both on campus and off, both academically and socially. FYE brings those resources right to the students."
Amber witnessed "a real view of how public policy influences the way in which we as citizens live" when she had the honor of interning for Florida State Representative John Legg of Pasco County.
"Working with a state legislator was perhaps, the best experience for me professionally. I learned a great deal about bills and laws, while also getting a detailed glimpse into what life as a politician is like. The experience has led me to think about my goals and what avenues I would be interested in taking into a career in government."
Not surprisingly, Amber hopes to pursue a Master's in Public Administration upon graduation. "It is a treat to see the political process in action, to be able to translate what I learn in class into what is happening in our country. I am inspired to take on the responsibility as an America to do my best to serve a country that is progressive and diverse."