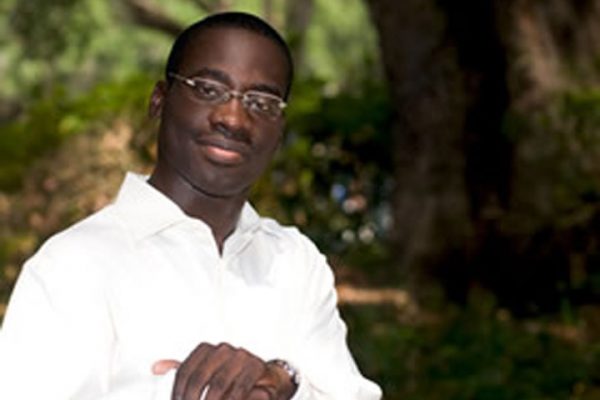 "Meeting the richest man in the world is a huge accomplishment—and I got to do that. FSU really provided a lot of great opportunities to me."
For Dominique St-Fleur Jr., a finance and accounting student, on the rich balance sheet of experiences afforded him by The Florida State University, there is one experience that can be considered, in a word, priceless.
"The College of Business sent 27 students to Omaha, Nebraska, to meet Warren Buffett, hear him speak and talk to him," St-Fleur says. "Meeting the richest man in the world is a huge accomplishment—and I got to do that. FSU really provided a lot of great opportunities to me."
The 21-year-old senior from Sun Coast High School in Rivera Beach has come a long way in his time at Florida State. When he first arrived on campus, St-Fleur knew he wanted to study business, but he also knew he had a lot to learn, he admits.
"I was already majoring in finance and didn't really understand what Wall Street was," he says. "I knew I was interested in business, but I didn't really know all the concepts behind it."
Then, during a First Year Experience class, a one-credit-hour course offered only to first-time-in-college students, St-Fleur says he remembers a guest speaker saying, "Accounting is the language of business," and the words immediately seized his attention. "From there, I was like, 'Whoa! If I want to learn about business, I have to know accounting,'" and he decided that he would study both finance and accounting.
Challenged by his older brother, Stanley, a Florida A&M University computer information systems alumnus, to maintain a 4.0 for at least two years, St-Fleur says he worked hard to excel in his studies. The offspring of Haitian immigrants, St-Fleur's college days in Tallahassee overlapped with his brother's last semester. Still, "I ended up keeping a 3.9 for two years," he says.
The current meltdown on Wall Street hasn't deterred St-Fleur. After his sophomore year, he interned with investment bank Goldman Sachs, winning its Scholarship for Excellence. He also interned with PricewaterhouseCoopers, the world's largest professional services firm. With offer letter in hand, he's headed to New York City. Leveraging the exposure and expertise he garnered at PricewaterhouseCoopers, which he says is "holding up well," St-Fleur will return to work full time at the firm, specializing in asset valuations.
"What that entails," he explains, "is when a company buys another company, they have a value [reflected in the sales price], but I have to go in and value the intangible assets, so they go on the balance sheet correctly and are accounted for."
At Florida State, the faculty's open-door policy is one of its most valuable assets, St-Fleur says. "They really do care about the education you get here," he says.
As his time at Florida State winds down, St-Fleur has retired as chairman of the College of Business Student Leadership Council after holding that position for two years. "It's one the proudest roles I've every played," he says of the post, in which he served as liaison between the dean's office and business students and between the students and the college's board of governors.
"The organization started small and undefined," St-Fleur admits. "We really took our role seriously, and we launched the Golden Opportunities Mentorship Program, connecting alumni who did really well with current high-performing students in a mentoring role. Several full-time jobs came out of that." The program has produced many opportunities for Florida State business students, lifetime relationships and jobs, he adds.
Building on his FSU education and the career it has launched, St-Fleur says he ultimately hopes to use his valuation skills entrepreneurially and "to acquire and buy businesses—be the next Warren Buffett," he says jubilantly, then quickly adds: "None of this would be possible without God's grace and mercy. I don't want to project that all this came about because I was so smart. Although I have drive and initiative, I was placed in a position where I could pursue those opportunities. God is the reason I am here today."