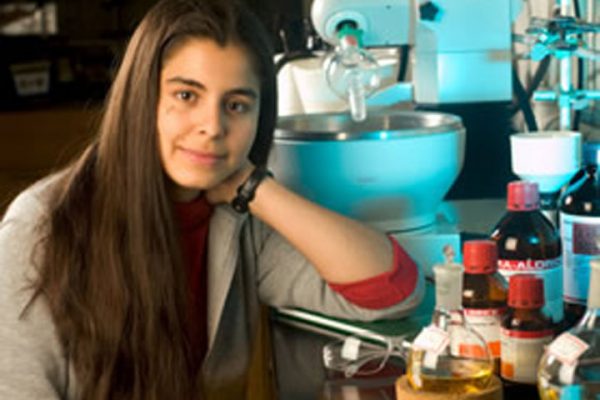 "The environment was just wonderful, and the chemistry professors were incredibly enthusiastic, creating an atmosphere where you think, 'This is the right place for me.'"
Chantal Garcia de Gonzalo grew up listening to stories of science, research and higher education from her father, who holds degrees in engineering science and mechanical engineering and was the provost of the University of Chile.
"He was a professor for 30 years, and he would always talk to my brothers and me about his work," she recalls, "and about how he would meet with the president of the University of Notre Dame, the president of Berkeley, and the chancellor of the University of California … with whom he got a cyclotron to do research on isotopes."
Her father's work instilled in Garcia de Gonzalo a deep affinity for science.
"I have always loved and enjoyed science, and as far as I can remember I knew that the science field was my world," says Garcia de Gonzalo, who is originally from Santiago, Chile, and came to the United States seven years ago.
Now 21 and in her fourth year at The Florida State University, Garcia de Gonzalo is majoring in chemistry. "I found a field that I just could not have enough of," she says. "What caught my interest was the fact that everything is made up of atoms. The vast variety and richness of everything we see around us in the world and beyond, how it is built up, how it all fits together is all down to atoms and the mysterious laws they obey."
Deciding on The Florida State University was no mystery though, Garcia de Gonzalo says. "I visited many other universities … but what truly became the deciding factor was the fact that during one of my visits to the campus I was impressed with the predisposition of the Florida State community to help others," she says. "The environment was just wonderful, and the chemistry professors were incredibly enthusiastic, creating an atmosphere where you think, 'This is the right place for me.'"
Though captivated by chemistry, Garcia de Gonzalo hasn't limited her Florida State studies to that subject. She is also majoring in biochemistry and Italian—and has maintained a 3.97 overall grade point average. "This is my fourth year in school, but I will stay a total of five years so I can finish my three majors," she says. "I anticipate graduating during the spring of 2010."
During her time at Florida State, Garcia de Gonzalo has received many honors and awards, from first making Dean's List and then the President's List, to winning an award for High Academic Merit in Italian Studies, an Undergraduate Analytical Award and a 2007-2008 Charles A. & Louise L. Brautlecht Scholarship. She says she is most proud of the Undergraduate Research and Creative Activity Award, the $4,000 stipend for student-designed research or project, that placed her in the lab under the supervision of Professor Edwin Hilinski to do research that was presented in the Inter-American Photochemistry Society meeting in January 2009. During the fall 2009 semester, she will study abroad in Italy, thanks to Winthrop-King Scholarship in Italian.
A member of the Phi Kappa Phi, Phi Eta Sigma and Gamma Kappa Alpha honor societies, Garcia de Gonzalo is also a member of Golden Key International.
After graduation, she plans to pursue a graduate degree in chemistry and to continue doing research. "Ultimately I would like to go into industry," she says.
Garcia de Gonzalo's older brother Ricardo and younger brother Simon are both Florida State computer science majors. Ricardo is a senior who will graduate spring 2009, and Simon is in his second year and anticipates graduating spring 2011.