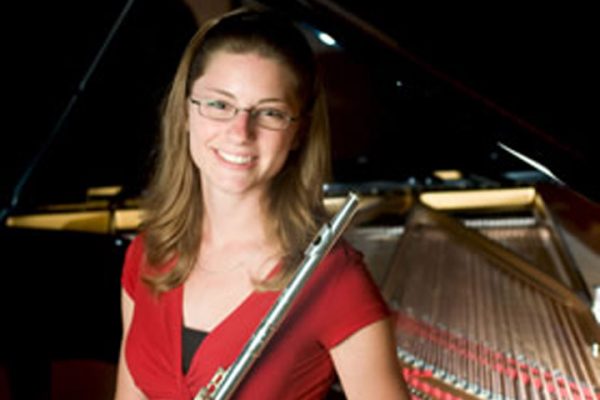 "I couldn't believe that this kind of playing was caused by anything but magic. It was then that I knew I had made the right choice in coming here."
The outstanding reputation of Florida State University's College of Music is what initially compelled Ashley Stahl to attend. She recalls her first rehearsal with a university ensemble. As a freshman playing with a more advanced band, Ashley was both nervous and captivated by the talent she was surrounded by. "Having come straight out of high school, I couldn't believe that this kind of playing was caused by anything but magic. It was then that I knew I had made the right choice in coming here."
Now a senior majoring in woodwind performance (flute), Ashley has had the opportunity to improve her craft while gaining recognition as an outstanding musician and student. Since entering FSU, she has played in six different university ensembles with as many as four in a single semester. Additionally, Ashley has been very successful in several national flute competitions, including earning first place in the Florida Flute Association's college young artist competition as a freshman. As a junior, she returned to the competition and won second place. Other honors include second place in the Atlanta Flute Club's 2008 college flute competition.
Ashley has also earned the privilege of playing for accomplished artists such as Baroque expert Stephen Preston, world-renowned Goran Marcusson, and Renee Siebert of the NY Philharmonic. Ashley was also chosen to participate in several summer music festivals, has played in the pit orchestra for FSU School of Theatre productions, and has performed with an intercollegiate band selected by the Florida Music Educators' Association conference. Recently, Ashley took her first step into the world of professional music when she won a spot on the subbing list for the Northwest Florida Symphony.
Despite her regional and national recognition for performance, Ashley most values the recognition she received from FSU last spring. "The most special award to me is the 2008 Brautlecht Award from the College of Music. This is given every year to a rising senior music major, and it is a great honor to receive because it is awarded for both musical and academic excellence." An honors student who maintains a high GPA, Ashley is as hard-working a student as she is a musician.
"My favorite and most influential professor is Professor Eva Amsler. I really cannot emphasize how much this teacher has contributed to my successes in the field of music." Ashley is grateful for the opportunities she has had to work with her flute instructor, Eva Amsler, and realizes how her personal success is largely due to the support of her teacher. "The importance of mutual respect between student and teacher cannot be overstated, and it is apparent that Professor Amsler has as much respect for her students as they do for her. I would not be half the flute player I am today if I didn't have a talented, caring and knowledgeable teacher behind me."
Following graduation this spring, Ashley will enroll in graduate school to study flute at the Master's level. "My ultimate goal is to play flute professionally in a high-level orchestra. Another goal of mine is to maintain my own private studio so that I can share with other young flutists what I have been given myself—a love and knowledge of music." She has explored the possibility of pursuing a doctoral degree after which she hopes to teach at the college level while maintaining an active career as a performer.