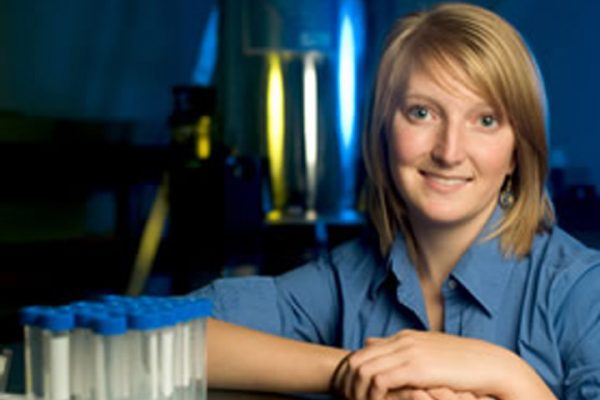 "My research project gives me the opportunity to apply what I've learned in the classroom to actual research. I am excited to witness firsthand how progress in the laboratory can help people in the everyday world."
"I came to FSU as a Biochemistry major. I had researched the outstanding reputation of the chemistry department and immediately wanted to visit the campus," says Aimee Howard, a native of Mascoutah, Illinois. "After talking to the Honors Program and asking my orientation leader all about extracurricular activities, I felt that FSU was the best fit for my personality and academic goals." During her sophomore year, Aimee changed her major to Biomedical Engineering after "discovering the possible fields of research available to biomedical engineers."
If maintaining an above 3.8 GPA in Biomedical Engineering doesn't sound challenging enough, Aimee is also President of the Biomedical Engineering Society, Secretary of the Tau Beta Pi Engineering honors society, and has been performing original research through her Honors in the Major project. Under the supervision of Dr. Sam Grant of the National High Magnetic Field Laboratory (NHMFL), her Honors research focuses on possible treatments for Sarcopenia, the degenerative loss of skeletal muscle mass and strength associated with aging.
To carry out her research, Aimee received an Undergraduate Research and Creative Activity award through the FSU Office of National Fellowships. "My research project gives me the opportunity to apply what I've learned in the classroom to actual research. I am excited to witness firsthand how progress in the laboratory can help people in the everyday world." Aimee hoped that her research on Sarcopenia, which utilized the 900 MHz magnet at the NHMFL, would "bring more needed attention to one of FSU's greatest assets."
Aimee is also a recipient of the FAMU-FSU College of Engineering Scholarship and a member of the Phi Eta Sigma honors society. Through her extracurricular involvement, she has found ways to make an impact on the community around her. She helped fundraise over $500 for the American Cancer Society through Relay for Life and has held tutoring sessions with underclassmen in the Biomedical Engineering program.
After graduating this spring, Aimee plans on attending graduate school in pursuit of a PhD in Biomedical Engineering. Ultimately, she hopes to become a professor. "As an engineering student, I have learned that engineers are meant to better mankind. I hope that by applying my passion for learning, I will make a lasting contribution to the academic community."