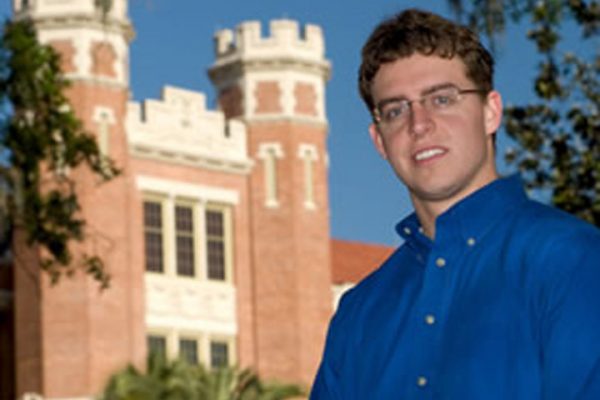 "My experiences as a servant leader have made me committed to giving back in the future and making the world a better place."
Chad Corbitt has dreamed about attending Florida State University since he was a child. He became further committed after participating in the FSU summer music programs throughout high school. Although he was initially drawn to the top tier College of Music, Chad has benefitted from exploring various facets of campus life and has developed a passion for the world of business.
Now a senior, majoring in Finance, Chad has spent the past four years developing his leadership skills and maintaining his commitment to brotherhood and service. "Through my fraternity I have strived to build value-based leaders and recruit individuals who believe in that cause." Chad has served as Vice President and Philanthropy Chair of his fraternity, Phi Kappa Tau. His philanthropy raised over $5000 to benefit Hole in the Wall Camps for children with life-threatening illnesses. Additionally, Chad has served as Secretary and Vice President of Finance of the FSU Interfraternity Council.
Chad currently serves as President of the Southeastern Interfraternity Conference (SEIFC). For his interfraternal experiences and commitment to building fraternity relationships, Chad was awarded the Jack L. Anson Award. This award is presented to one undergraduate each year for the most outstanding contribution to a University Greek Community. This past summer, Chad received the Taylor A. Borradaile Award recognizing him as Phi Kappa Tau's National Undergraduate of the Year.
In addition to his involvement in FSU Greek life, Chad has devoted much of his time to other campus activities. "I feel I understand the concept of passing off the torch through mentoring students in the First Year Experience program and as an Orientation Leader." Besides FYE and Orientation, Chad was also a facilitator for the Service Leadership Seminar (SLS), which is hosted by The Center for Leadership and Civic Education annually.
Chad spends his free time as a volunteer with the Leon County Humane Society and Holy Comforter School. His mentors are his mother and father, Dr. Adam Goldstein, Liz Maryanski, and Kevin Johnson.
After graduation, Chad plans on pursuing his MBA and a career in business. "The leadership skills and ethics I have acquired through my extracurricular involvement while at FSU have definitely prepared me for my future career in business. My experiences as a servant leader have made me committed to giving back in the future and making the world a better place."