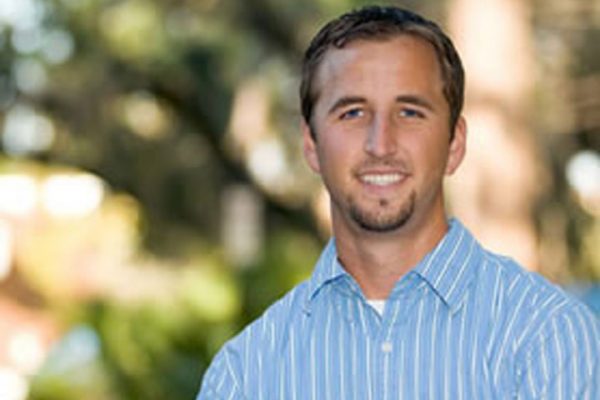 "I chose FSU over other schools because of its beautiful campus and the allure of the Marching Chiefs."
"I chose FSU over other schools because of its beautiful campus and the allure of the Marching Chiefs."
Acres, Florida, came to FSU after having his choice of several colleges in Florida as a 100% Bright Futures Scholar. Having spent four years as a tenor saxophone player in the marching band and being a diehard Seminole fan, Martin earned a remarkable achievement in the laboratory, having successfully won the prestigious James R. Fisher Summer Research Fellowship from the American Cancer Society for his work with Dr. Hong Guo Yu in Yeast Genetics.
In Dr. Yu's lab, Martin's work involves tagging various proteins to find a correlation between what makes spindle pole bodies in yeast multiply. By doing so, Martin's work can simulate conditions to those found in cancerous cells in humans. Martin has created a mutant of yeast that is going to be useful for future research in the lab, and he credits Dr. Yu's encouragement as a driving force in winning the fellowship from the American Cancer Society. The fellowship provided him the opportunity to become more competent with a variety of lab techniques and equipment, particularly with microscopes. As a result of his work, Martin was able to author a report on his findings, and his research was submitted to the American Cancer Society for further review.
Martin's success is not limited to the Genetics laboratory. He is a great example of a being both a fan of the Seminoles and being an excellent student. His friends know him to be a devoted musician and avid Seminole, attending every football and baseball game he possibly can, all while balancing time spent in the classroom and in his various leadership positions.
Having served as the Step Master and a Committee Chair in the Gamma Nu chapter of the Kappa Kappa Psi national honorary band fraternity, Martin also serves as a Staff Member for the Marching Chiefs. He credits his involvement on campus with his success. "I believe that my participation in campus activities such as Marching Chiefs and Kappa Kappa Psi, as well as my academic endeavors in the classroom and laboratory has impacted the FSU community in a positive way. I have striven to provide leadership and to uphold the high standards to which Marching Chiefs and the research community of FSU aspire."
In December 2008, Martin will graduate Magna Cum Laude with a degree in biology and a double minor in chemistry and physics. Martin plans to attend Dental School beginning in August 2009. "Dentistry has been my lifelong dream and I am looking forward to focusing on the career ahead of me," says Martin, and he believes his work in the laboratory will help him tremendously in Dental School.