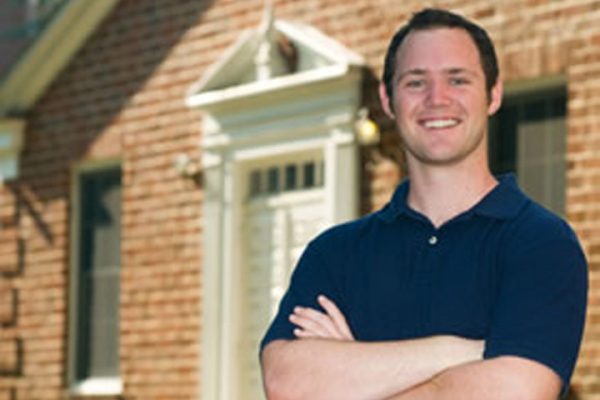 "Nothing compares to being a part of leadership at the FSU Wesley Foundation, I am very blessed to have the opportunity to give back to the community that gave so much to me."
"Maybe the biggest impact I have on the FSU community is the enthusiasm that I bring to teaching and trying to build relationships on campus," says Doug Norton who, while a graduate assistant to Dr. Mark Isaac, helped to design and lecture in a new undergraduate course called "Economics of Compassion."
Norton decided to come to FSU after a year at another university "because of the strong economics and political science departments and good athletic program." After receiving his Bachelor's degree in the winter of 2006, Norton wasted no time before his next intellectual endeavor. He co-authored a book entitled, Wise as Serpents: Missional Christian Adventures and Misadventures in the Economics of Compassion before beginning the Applied Masters in Economics program in the fall of 2007. His co-authored work has been presented at a number of national and international conferences including the 2008 Association for Private Enterprise Education conference in Las Vegas and the Social Dilemmas Conference that was hosted by FSU.
Although he is the recipient of numerous honors and awards, such as the John and Hallie Quinn Fellowship, the Dewey F. Bartlett Fellowship, Norton remains humble and credits much of his success to the FSU Wesley Foundation. "Nothing compares to being a part of leadership at the FSU Wesley Foundation," he says. "The people there were such an inspiration to me when I began attending FSU. I am very blessed to have the opportunity to give back to the community that gave so much to me."
Norton received his Master's degree this past summer and hopes to put the knowledge from his thesis into action by helping to establish a non-profit coffee shop named 'Rhythm.' "Rhythm was the subject of my thesis and the basic idea is that this non-profit organization can sell goods to people (like coffee) that they would ordinarily buy and increase the overall level of charitable giving," he says. Rhythm will take the profits from its sales and donate them to non-profit organizations like BloodWater Missions, which digs clean water wells in Africa and other organizations such as orphanages, the local homeless shelter, or disaster relief funds.
The Charles G. Koch Foundation has awarded Norton substantial funding to continue his research and teaching at Florida State University. This spring, he will work towards establishing "Rhythm" and teaching the Economics of Compassion course again, including a special section for freshmen students in the Social Justice Living Learning Community. He is also furthering his research with the Experimental Social Science Cluster at Florida State University as part of the University's Pathways of Excellence initiative.