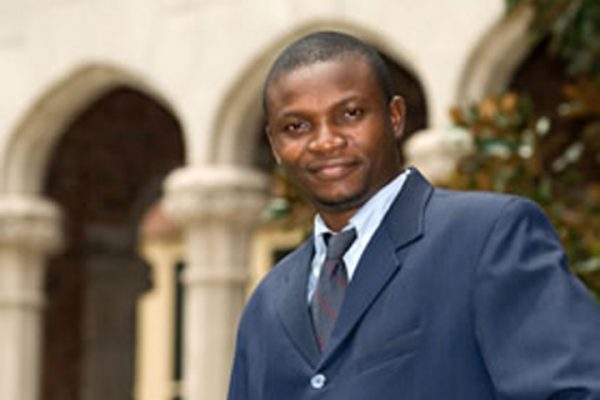 "The student population is made up of students from various countries and continents of the world. I love the opportunity that the University gives me to learn other people's cultures and values."
"The student population is made up of students from various countries and continents of the world. I love the opportunity that the University gives me to learn other people's cultures and values."
Eight years after receiving his first Bachelor's degree in Business Administration from Yaba College of Technology in Nigeria, Ibrahim Allison enrolled at the FSU College of Business to earn a second degree in General Management "because of the good diversity management programs for students."
As a former school teacher and an active community member in his native country, Nigeria, Ibrahim has an incredible story to tell. A husband and father of three sons, Ibrahim has experienced life beyond what many of his peers can imagine and he does not hesitate to articulate his journey.
Ibrahim, who came to the United States through the Department of Homeland Security's Diversity Immigrant Green Card Program in 2005, is defined by his classmates and instructors as an "exceptional" and "inspiring" student.
Ibrahim is a model student who works hard to balance family and academics. "Those who have met Ibrahim cannot help but be impressed," says Leslie Miller, director of Alumni Relations for the College of Business, "he shows what a student can accomplish just by having vision and determination."
Last fall, Ibrahim applied his vision for better education in Nigeria to create LearnNigeria, an online foundation which seeks to provide free primary, secondary, and computer education to children and adults in Nigeria. Ibrahim was inspired to create LearnNigeria after meeting one of the members of the College of Business Board of Governors through the Student Leadership Council's "Golden Opportunities Mentorship Program" initiative.
"He encouraged me to create a product that will enable me to keep in constant relationship with the U.S. and Nigeria," Ibrahim says of his mentor, Steve Roden, the founder and CEO of LearnSomething, Inc. and an alumnus of FSU. Roden introduced Ibrahim to his business, LearnSomething, which led to the creation of LearnNigeria.
"Ibrahim's work on LearnNigeria could have a dramatic impact on his home country where there is a digital divide in the work force and…a desperate need for his type of leadership," says Roden.
Ibrahim plans to pursue his Master's in Business Administration with a concentration in Management Information Systems. He will also continue working on his online education and training program, LearnNigeria. In the future, Ibrahim hopes to travel the world to learn about various cultures, publish books, write articles for major newspapers, and participate in community development programs.