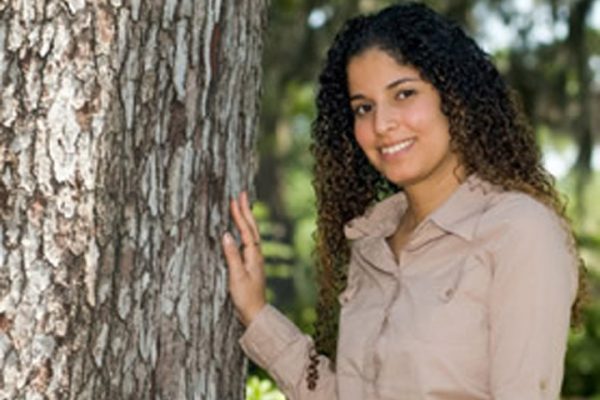 "[The Oscar Arias Sanchez Hispanic Honor Society is unique in that it] "focuses on students who are interested in Hispanic studies and involves members in community service activities, fundraisers, and cultural seminars."
"I was initially attracted to Psychology because I was interested in human behavior and the functions of the brain. During my junior year, I took "Psychology and Law," which sparked my interest in Criminology. Checking with my advisor, I discovered that my schedule allowed me to explore the field of Criminology through a double major," says Nalleli DeJesus.
Impressed with the academic programs offered and the friendly campus atmosphere, Nalleli chose to attend Florida State. What she liked most, however, "were the many student organizations on campus and different leadership opportunities. I knew from my high school experience that leadership positions help you grow as an individual and assist you with networking."
Through her various leadership positions, Nalleli has impacted the campus community by bringing awareness to issues within the Latino community and by making her fellow students "a little more knowledgeable about the Hispanic/Latino cultures." She began as historian co-chair of the Hispanic/Latino Student Union, a position in which she learned more about the various Hispanic cultures than what she had learned growing up—how different each culture is even though in America they are thought of as one homogenous group. The following year, she became social chair, a position which brought her fun and new friends as she put together social events for all campus participants.
She is most thankful for her involvement with the Oscar Arias Sanchez Hispanic Honor Society, first serving as historian and later as president. The Society, she says, is unique in that it "focuses on students who are interested in Hispanic studies and involves members in community service activities, fundraisers, and cultural seminars." Her more memorable service activities include Downtown Getdown, which involved supervising children's activities for Tallahassee's annual celebration, and Second Harvest, where members help sort food donated for those who would go hungry otherwise. Her personal favorite is Adopt-a-Family. During the Christmas season, one chosen family is provided gifts for their children. Nalleli says, "We get to help people have a more joyful holiday."
Nalleli recently completed an internship with the Florida Department of Law Enforcement, which enabled her to "observe the daily activities of law enforcement officers." Her experience solidified her decision to work for a similar government agency following her graduate studies in Clinical Psychology. She says, "The study of Criminology gave me deeper insight into criminal behavior. I want to research the various treatments that can be offered to criminals. I also want to be the first in my family to go all the way and get my doctorate."