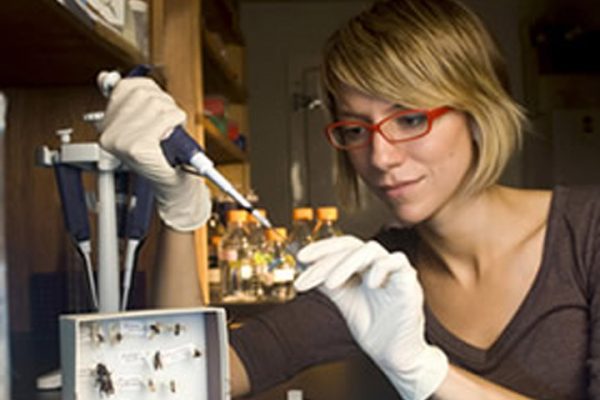 "Scuba is physically challenging, mentally stimulating, and instills a sense of appreciation for, and urgency to conserve, the natural environment."
Which university do you attend when you have diverse academic interests? Rebecca Wetherby, who is carrying a double major in Biology and Studio Art, chose Florida State because of the "great variety of strong academic programs and its proximity to the ocean and other beautiful, natural areas."
"Here," she says, "I have been able to indulge myself both creatively and cerebrally, pursuing an education that has honed my artistic skills, while simultaneously receiving scientific training. By using both sides of the brain, I succeed in each area. Art classes foster the ability to think creatively, which is a huge asset for a scientist when trying to solve problems. Biology classes help you think critically, which is beneficial when working on art projects."
For the past two years, through a Research Experience for Undergraduates (REU) Fellowship from the National Science Foundation, Rebecca has been working in the lab of Fredrik Ronquist, associate professor of Computational Science. To construct the evolutionary history of the insect order Hymenoptera (bees, wasps, ants) and resolve many uncertainties among these groups, Rebecca has helped collect and assemble DNA sequence data. Part of a world-wide collaboration funded by the National Science Foundation, the Assembling the Tree of Life (AToL) initiative hopes to provide the evolutionary history of all organisms.
Last semester, Rebecca completed a Directed Individual Study (DIS) with Gavin Naylor, associate professor of Computational Science, and his graduate student Neil Aschliman, on the phylogeny of Batoidea, a superorder of cartilaginous fish (stingrays and skates). Her tasks included DNA extraction, amplication, and computation analysis.
She also completed a DIS at the Tallahassee Museum, a natural habitat zoo dedicated to conserving native species. She monitored the animals' health and behavior, assisted with diet preparation and veterinary care for a semester, and then continued to volunteer for several semesters. She is the founder of the student organization People Against Cruelty to Animals (PACA), which helps capture-neuter-release feral cats, holds public protests, and advocates for animal-friendly legislation.
Now, most of her spare time is spent coordinating dives for the Seminole Scuba Club, and for some time she's been involved with the Academic Diving Program, busy "working her way up to Scuba Instructor." Of the sport, Rebecca says, "Scuba is physically challenging, mentally stimulating, and instills a sense of appreciation for, and urgency to conserve, the natural environment."