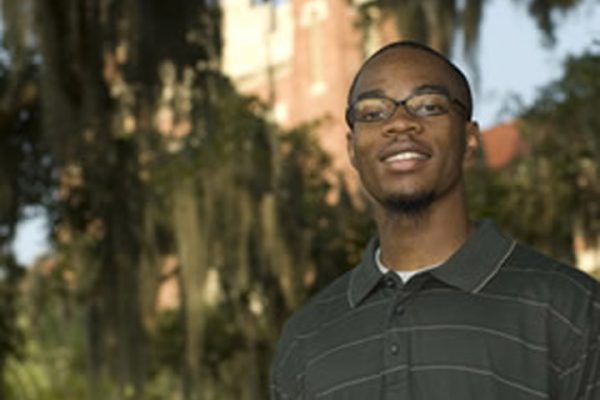 "An interpreter exists as a bridge between cultures, and any effort that leads to clearer communication in the United Nations can only have a positive effect on the world in which we live."
Ah, French. Its musicality creates a language of romance, sweet romance.
Randolph Turnbull says he fell in love with the language "from the very first day of my very first French class." He knew that whatever he did with his life, it would involve speaking French, and from high school to graduate school, it has remained his passion. Now pursuing his doctorate and teaching undergraduates, he says, "l hope I can inspire my students the way my first French teacher, Madame Araujo, inspired me."
French is the official language of more than 25 countries, which means its literature has taken on the richness of those cultures and customs. Randy obtained his master's in 20th century French Literature and is now specializing in the literature of La Francophonie (the community of mostly former French colonies—the French Caribbean, North and West Africa, and Canada). "Most of my time and energy is devoted to reading and analyzing such literary works (for example, the writings of Albert Camus, who was born in Algeria)," Randy says, "because they are windows into that particular culture."
He is doing so well that he has received three major awards. The Leslie N. Wilson Assistantship, which is granted to African Americans who are first-time graduate students, has enabled him to develop professionally as a teacher. The Winthrop-King Summer Scholarship for Study Abroad enabled him to spend the summer in Annecy, France, living with a French family and attending a linguistic institute. He says, "I enjoyed the natural beauty of the country, while appreciating several aspects of the culture and language that I had studied for so many years."
Recently, he was awarded the McKnight Doctoral Fellowship, which, with its generous stipend, should cover the entirety of his doctoral studies. Administered through the Florida Education Fund, the state-wide fellowship is open to African-American and Hispanic graduate students.
Following graduation, Randy has several career options. To teach—"I find the student-teacher interactions incredibly rewarding." To translate—He is currently working toward certification through the American Translators Association. To work as an interpreter for the United Nations—"An interpreter exists as a bridge between cultures, and any effort that leads to clearer communication in the U.N. can only have a positive effect on the world in which we live."