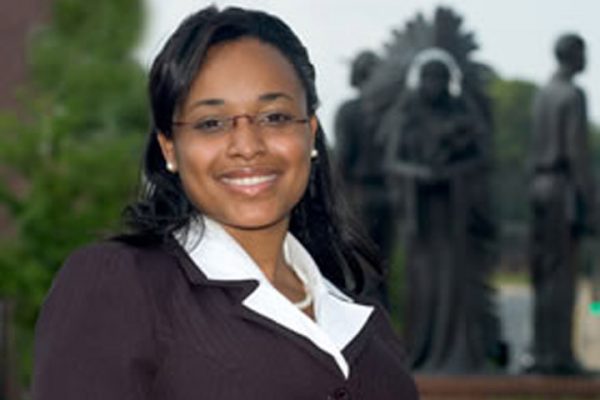 "Serving on the College of Business Student Leadership Council is an honor. I help improve my peers' college experience."
Joevania Alexandre is working her way toward a seat on the U.S. Supreme Court.
Could this be an overly lofty goal? Not so, Joevania says, "My parents raised me to reach for the best in everything. Growing up with that notion, I have learned to believe that the Lord has blessed me with many abilities, some of which I am not even aware of. So why limit myself?"
To build a firm foundation, Joevania is majoring in Business Management, which "requires discipline, commitment, and interpersonal skills, qualities also required of a career in law," and she is doing so with academic excellence, appearing on the President's and Dean's lists.
To provide more opportunities for Business students, Joevania serves as the vice chair and Management representative for the College's Student Leadership Council, a liaison group between Business students, the Dean, and the Board of Governors. "Serving on the Council is an honor," she says. "I help improve my peers' college experience by finding out their opinions, implementing programs, and facilitating the connection between what students want and what the faculty does to accomplish those tasks."
Since her sophomore year in high school, Joevania has been involved with Delta Epsilon Chi (DECA), an international business organization, moving up from class secretary to state vice president. "DECA has helped me step outside my comfort zone to attempt what I otherwise would have never experienced—like giving a speech in front of 5,000 of my peers!"
Upon arriving at Florida State, however, she was "surprised and saddened" to discover we had no chapter to the organization that had been a constant in her life for many years. She wanted others to have the same opportunities for personal growth and networking and so became the founding president. Department chair Bruce Lamont and the chapter's advisor, Deborah O'Connor, have been instrumental in the chapter's success. In spring 2006, a few weeks after being chartered, three new members brought back four trophies from the State Conference. Joevania says, "Is DECA inspiring? I think so!"
Her need to improve life for others is what drives Joevania toward becoming one of the Supreme Court Justices, that is, those who "have the greatest ability to change our society for the better."
Recognizing her abilities and her efforts to maintain ties with her Haitian heritage, the Haitian Cultural Club, which is comprised of students from Florida State, Florida A&M, and Tallahassee Community College, selected Joevania as Miss Haitian Cultural Club for 2006-2007.