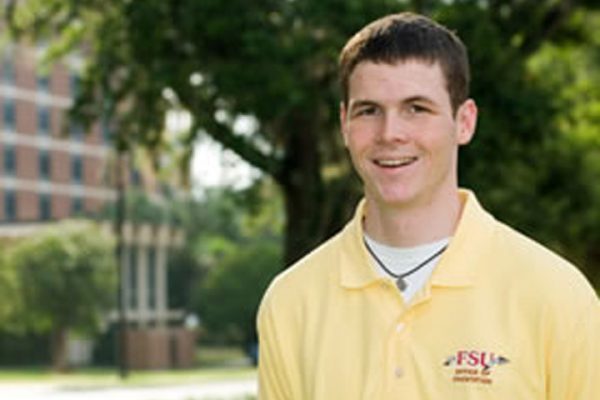 "As an Orientation leader I learned so much about the University and the students that it changed who I am and how I look at the world around me."
You grow up in a family of 'Noles. Your father graduated, followed by your Uncle Terry. Even your Uncle John attended for several years before joining the Navy. Now it's your turn. Do you feel pressure? Not if you're Sean Gilliam, known for your confidence in your abilities.
"When it came time to apply for schools I knew I wanted to go into Business, and Florida State's is the best," Sean says. Add in its culture, and "FSU was a natural fit." Sean hopes to work in the travel industry, either hotels or transportation, and thought, "it's easy to double major" so he chose General Management and Hospitality Administration.
Hospitality may well be in Sean's blood. He says, "In 2006 I had the honor of serving as an Orientation leader. I learned so much about the University and the students that it changed who I am and how I look at the world around me." Hooked from then on, he worked "to make a difference in people's lives, no matter what the situation"—what he defines as a leader. "I have been able to mentor and guide a number of students as they begin their college career." Indeed he has.
In March, although serving an internship in Orlando, Sean drove back to Tallahassee to help out with the Southern Regional Orientation Workshop (SROW), a three-day conference that Florida State hosted for the fourth time this year. With over 1500 students and professionals gathering at the largest Orientation conference in the nation to expand their knowledge, discuss challenges, and become more effective leaders, he had his hands full. But, he says, "SROW isn't all work. All the schools were extremely spirited throughout the conference, especially in the Morning Icebreaker and the Song, Skit, and Dance competition."
Sean is now starting his third year as a senior official with Intramural Sports (IS). To become a senior official—one of those enviable paid positions—you must "work for IS for an extended period of time, prove you're a leader, help train newly arriving officials, and referee the most challenging games."
He's just returned from his semester-long internship as a bell services dispatcher with Disney's Port Orleans Resort in Orlando, work he enjoyed "because it's one of the few places that's known by the entire world and is traveled to by people from all over." He continues to work for the entertainment conglomerate as a seasonal cast member and as a campus recruiter.
This coming fall, though, he'll be part of a First Year Experience (FYE) instructional team (instructor, co-instructor, and peer leader). He says, "Each member will be teaching various portions of the class and providing a strong support system for our students as they begin their college careers."