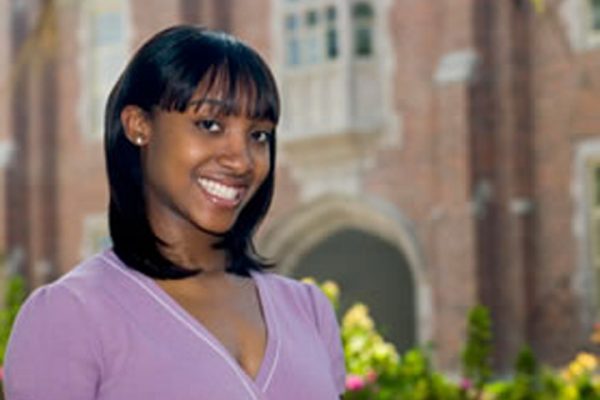 "Although you are vulnerable on stage, there is this freedom that cradles you and eliminates all barriers between you and the audience, you and your own struggles."
Indira Goodwine started dancing at age four—"I was one of those babies that never stopped moving"—and she has never stopped—"I knew I wanted to be a performer after that first class."
As she grew older, she was inspired by Judith Jamison and Josephine Baker, two women who broke barriers in the dance world. She attended New York's Professional Performing Arts High School in the mornings, and spent her afternoons training at the Alvin Ailey School, where she was able to perform for "my Judith Jamison—a dream come true."
Indira loves "to indulge in different styles of dance, because each brings out something new" for her. Since a freshman, she has been a part of the Phlava Dance Company and is now its artistic director. "It has a special place in my heart," she says. The company presents dance through a wide spectrum, including hip-hop, jazz, and funk.
As to why some people need to dance, she says, "Through performing, everything makes sense. Although you are vulnerable on stage, there is this freedom that cradles you and eliminates all barriers between you and the audience, you and your own struggles. It may be brief, but the journey leaves you with a high that encourages you to pursue anything."
One pursuit is academic excellence. She's appeared on the Dean's List every semester, and has been inducted into the National Society of Collegiate Scholars and Who's Who Among Students in American Universities and Colleges. "I recognize the many sacrifices my parents have made for me," she says, "so just passing doesn't cut it. I must put forth the effort to excel."
She receives support from the Black Female Development Circle, a recognized student organization. "The Circle assists women in growing to their full potential, through bonding, sharing of personal experiences, and discussing issues of the day," she says. Although the Circle was established to facilitate the evolution of black females, it is not limited to them. "If you let it, the Circle has the power to help you achieve personal goals."
Pursuing goals is a constant for Indira. In addition to Dance, she's "always been interested in different forms of communication, especially journalism and broadcasting." Her minor in Communication will enable her to incorporate these into the field of Dance.
After graduation Indira returns to New York City, to begin the auditioning process for dance companies. She says, "Although I have been told that I would be a great teacher, I want to establish a performing career first."
Barriers wait to be broken.