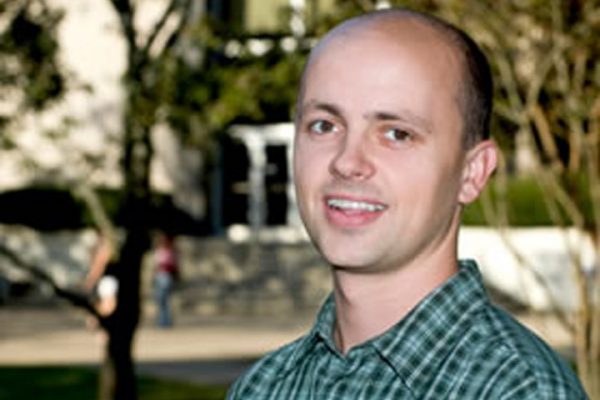 "The intersection of Wall Street and Main Street, where money is invested in commercial real estate assets, deeply interests me."
"The intersection of Wall Street and Main Street, where money is invested in commercial real estate assets, deeply interests me," says McKay Price. "While many people have a general understanding of stocks, bonds, and real estate, very few have exposure to the convergence of these seemingly separate worlds. Currently, there are several vehicles through which money can be invested in real estate, and the capital markets are coming up with new ways as the years roll on."
FSU's College of Business provides McKay the opportunity to pursue a doctorate in Finance while also completing support studies in Econometrics and Real Estate. Which explains why this man from cold, snowy Minnesota left his well-paid corporate position as Real Estate Manager for Target Corporation for Tallahassee's humid climate—"I couldn't believe how hot it is." McKay adds, "I loved what I was doing in the corporate world, but I also enjoy the university environment with the students' high levels of energy and excitement for the future."
After receiving his undergraduate degree in Finance, graduating in the top 3% of his class at the University of Utah, McKay worked as a licensed broker, helping institutions, corporations, and individuals with the acquisition and disposition of commercial real estate assets. He earned Rookie of the Year honors.
As the years passed, he began to experience an itch for further schooling. He entered the Massachusetts Institute of Technology to earn a master's in Real Estate Development. His thesis, "Multiple Asset Class Investing: Equilibrium Asset Pricing Evaluation of Real Estate Risk and Return across Four Quadrants," was cited in the Pension Real Estate Association Quarterly (fall 2005), a trade publication with a circulation that includes 600 institutional investors.
His itch scratched, McKay went to work for Target, where he was responsible for the expansion and redevelopment efforts of existing assets in northeastern U.S. cities. For various projects with over $100 million of capital invested annually, he led a team of experts in architecture, law, construction, engineering, store planning, market research, storm water management, soils, lighting, and environmental concerns.
He loved his job, but later told his boss that the education itch had returned. Not wanting to lose a valuable employee, his boss replied, "You know, we sell a cream for that." But McKay has a lifetime commitment to learning and wants to teach Finance at a research university.