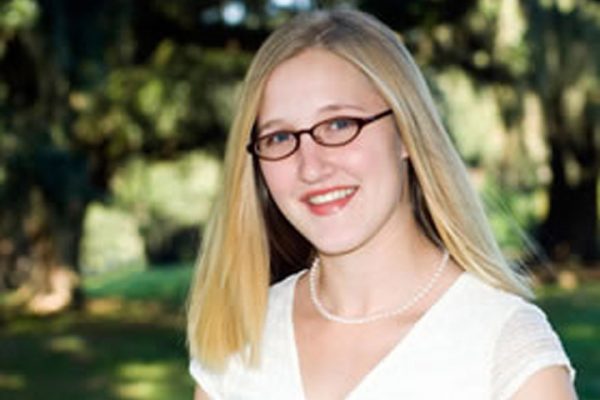 "I study religion using the methods of cultural anthropology."
Money is not the driving force in Lauren Davis's life; passion is. "Though I was raised to believe I could be anything I wanted to be," she says, "I was also encouraged to study a field where I could make a lot of money."
Lauren performed superbly in her academics—appearing on the Dean's List every semester, becoming an Honors student and a member of the Golden Key International Honour Society. But she had trouble deciding on a major, changing her mind "four times"—a common consequence of not following one's own heart and mind.
She says, "Up until a few months ago, I was studying International Affairs," with the goal of attending law school. Of the classes required for that major, she only enjoyed Religion and Anthropology. "I decided to do an Honors in the Major Thesis to prepare for law school, but little did I realize that I would enjoy working on my Thesis so much that I would want to pursue a Ph.D. in Religion! Now that my parents see this, they support my decision to go to graduate school instead."
Professor Amy Koehlinger was supportive of Lauren's decision. "She believes that students will not succeed unless they are truly interested in the subject. She fed my enthusiasm, while giving me the academic tools I needed to be successful." Hence, Lauren's dual major of Religion and Anthropology—"I study religion using the methods of cultural anthropology." And she is currently working on an Honors in the Major Thesis entitled, "Asian Encounters with Campus Christianity."
For the next two semesters Lauren will be a participant observer in Florida State's Christian campus ministry organizations. Her research will focus on the way in which campus ministries interact with International students from Asia. She explains, "Every semester, campus ministries provide material resources (furniture and food) and spiritual resources (Bible studies and worship services) to many of these students. I am interested in how these resources, especially the spiritual ones, affect them. I will also study the cultural impact that these students have on campus ministry students." She has received the Bess Ward Thesis Grant, which will help fund her research.
In her off time, Lauren "loves to observe religious life at FSU." She is also a Sunday school teacher at a local church, where she mentors troubled teens. Her future promises a doctorate in Religious Studies. Because, she says, "I would like to teach in the Middle East about American Christianity."