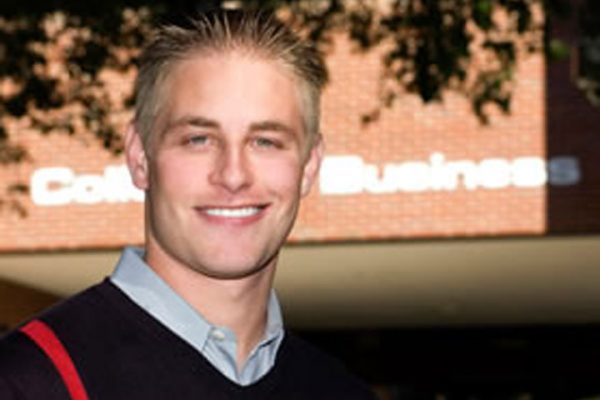 "People have the misperception that to be good in Accounting you need to be excellent in Math," says Andrew Panos. "You will be working with numbers, but not with complex quadratic formulas. Accounting is 99% conceptual." In high school, Andrew tested to determine his future profession and received a near perfect match with Accounting, which, he says, was "enough intuition for me to pursue this major."
And he has pursued his studies with vigor. With such competence that he is now a member of five honor societies—Phi Eta Sigma, Beta Alpha Psi (Accounting), Phi Kappa Phi, Beta Gamma Sigma (Business), and Golden Key International—and the recipient of numerous academic scholarships.
Andrew enhances his leadership skills through attendance at national conferences. In summer 2005, he attended the KPMG Fast Forward Leadership Conference in Hollywood, California. In summer 2006, he attended a conference of the Undergraduate Inter-fraternity Institute at Indiana University. After interning in New York City for his future employer, Ernst & Young, Andrew flew to Orlando for a leadership seminar. Recently, the College of Business asked three of its best students—Andrew, Joevania Alexandre, and Jim Summers—to represent the College at the 40th Annual Business Ethics Conference at West Point. What they learned would be transferred to the soon-to-be-created Business Ethics Center.
During school breaks, Andrew travels to "broaden his horizons," which he believes can be done through two methods—reading and traveling. With a graduation gift from his aunt, Andrew began in England. He says, "When I came home, I felt a dramatic change in my personality and the way I viewed others." Wanting to examine these changes further, Andrew wrote a research paper on how traveling affects our perceptions. Last spring through FSU's International Programs, he returned to London for a semester, using his free time to travel throughout Europe. He can now boast that he has visited 16 countries, including the Middle East.
Yet, what he will remember most fondly of his college years is his involvement in the "Greek Idol" philanthropy, a singing competition among sorority members that is sponsored by his fraternity Alpha Epsilon Pi. The competition raises money for SADD (Students Against Destructive Decisions). Having lost a brother to a drinking and driving accident in April 2005, Andrew and his brothers have turned their pain into a campaign to raise awareness of the dangers of alcohol. To date, their proceeds have reached over $25,000. Now, that's an Accounting concept to be proud of.