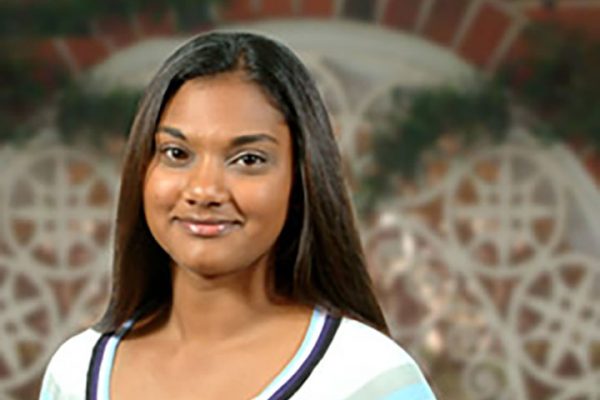 "Brittney has a strong drive to give back to the community."
Humanitarian: concerned with the welfare of others and the alleviation of their suffering.
Brittney has a strong drive to give back to the community. She earned her College's award by volunteering with America Reads at Bond Elementary, by devoting her time at Tallahassee's homeless shelter, and by serving two of her spring breaks for the Alternative Break Corps—in a Philadelphia inner-city elementary school and at the Pelathe Center, a Native American outreach center, in Lawrence, Kansas.
Somehow Brittney has found time for a triple major: Criminology, International Affairs and Arabic. She is doing well in all three
Criminology—She placed first regionally at the Lambda Alpha Epsilon Criminology Fraternity Conference in crime scene investigation and went on to score second nationally in academic testing.
International Affairs—To gain knowledge and experience, she has worked as an intern for the U.S. Embassy in Cairo, Egypt; the U.S. Senate Finance Committee in Washington D.C.; and the Federal Bureau of Prisons in Tallahassee.
Arabic—Brittney has excelled in her study of the language, says Professor Zeina Schlenoff. As the representative for FSU's Arab Cultural Association, she attended the Arab American Institute's National Leadership Conference in Dearborn, Michigan, and this past semester she won the David L. Boren Scholarship, which will cover all expenses for a year of study in Damascus, Syria.
Brittany enjoys student life at FSU. Her favorite memories will be attending football games and especially playing intramural soccer.
Brittney is now planning for graduate studies in International Relations. We know the international community can put this American humanitarian's energy, talents, and heart to good use.